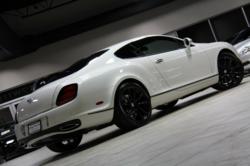 Chicagolands most trusted dealership
(PRWEB) March 15, 2013
These days, the professionals at Chicago Motor Cars know a thing or two about that history, and they've made it a goal to continue the virtues of a Bentley ownership experience far beyond when the car's primary ownership. Chicago Motor Cars recently acquired a rare 2010 Bentley Continental Supersports, and lets just say they are excited.
"I took one look at this car as it rolled off the truck, and said 'Whoa'. I was speechless" says Frank Sacco, president of Chicago Motor Cars. "To see it in person is breathtaking, but to get behind the wheel and experience this car is simply amazing. The heritage and craftsmanship of a Bentley motorcar sets standards for lesser automobile manufacturers, but when they set out to make a world class competitive car, they truly raised the bar."
"The Supersports model offered by Chicago Motor Cars is an excellent example of this fine English motorcar. The interior sports carbon-fiber bucket seats with a deleted rear seat, something we see often in high-performance machines at Chicago Motor Cars" says Chris Moran, Internet Manager at Chicago Motor Cars. "This is a car that is suitable to drive daily, yet provide the maximum in performance. We're proud to offer this car here at Chicago Motor Cars.
At the heart of the Supersports is a 6.0 Liter Twin-Turbocharged W12 engine that makes 621 horsepower. With a full-time all-wheel-drive system, you can take full advantage of that power all the way to 205 MPH. That's the kind of speed that creates that happy and completely satisfied feeling, which is our goal at Chicago Motor Cars.
Chicago Motor Cars is unique in their approach to the resale of these cars. It's Chicago Motor Cars' belief that the Bentley buying experience should be as refined and satisfying for our customers as the cars themselves. The Chicago Motor Cars staff are experts in this sort of vehicle, and our customer satisfaction always remains high.