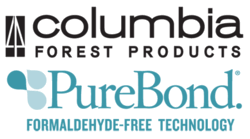 Greensboro, NC (PRWEB) March 15, 2013
Columbia Forest Products is pleased to announce the opening of the entry period for the 2nd Annual PureBond® Quality Awards competition.
Twelve winners will be chosen by a team of expert judges covering four project categories: Residential Kitchen; Residential Bath; Residential Other, and Commercial. To be considered for judging, each project submission must contain PureBond hardwood plywood in the construction. The winning selections will be made based on the "quality" use of PureBond hardwood plywood in a project.
Entries for the PureBond Quality Awards competition are being accepted from March 1 through May 31, 2013.
The PureBond Quality Awards are open to Columbia's PureBond Fabricator Network (PFN) members only. However, fabricators who use PureBond plywood in their practice may join the PFN now and become eligible to submit entries before the competition's deadline. For more details on joining the PureBond Fabricator Network, contact pfn@cfpwood.com.
"The PureBond Quality Awards is a way for us to recognize the high-quality work our PureBond Fabricator Network members are doing," Todd Vogelsinger, Columbia Forest Products' director of marketing, said.
"We created a partnership of craftsmen who build quality custom woodworking for residential and commercial customers using our flagship brand of PureBond hardwood plywood. We've been so impressed by the work they do, we decided a competition would be a great way to spotlight their accomplishments," Vogelsinger added. "The first year's competition in 2012 was a big success, so we're excited to be launching the second annual competition now."
The panel of PureBond Quality Awards judges for the 2013 competition includes:

Dave Grulke, executive director of the Cabinet Makers Association, with 30 years of cabinetry and carpentry experience
Kiersten Hathcock, founder and president of Mod Mom Furniture, a maker of award-winning, eco-friendly wood furniture and fixtures for children and the home
Eric Pfeiffer, award-winning product designer and co-author of the popular how-to manual Bent Ply: The Art of Plywood Furniture
William Sampson, editor of CabinetMaker+FDM magazine, with a 35-year career in the woodworking industry and publishing business
Ashley Turner and Whitney Gainer, sisters, mothers and co-authors of the popular Shanty2Chic blog that focuses on home decorating makeovers and how-to design tutorials
A small committee of Columbia Forest Products staff will also participate in the judging process.
The criterion for the winners is simple: demonstrate "quality" use of PureBond hardwood plywood.
"Last year's submissions were very impressive, and we are very pleased with the level of participation among our members," Vogelsinger remarked.
First place winners in the 2nd Annual PureBond Quality Awards competition will receive a $1,000 cash prize. The second and third place winners will receive $250 and $100 prizes respectively. Judging will be conducted in June and July, with the winners announced in August 2013.
The PureBond Quality Awards is the only competition focused exclusively on the use of PureBond hardwood plywood in quality woodworking projects. For more information on how to enter the competition visit [http://columbiaforestproducts.com/Fabricators/Contest or call 800-637-1609.
Columbia's formaldehyde-free PureBond® technology was a major breakthrough in the engineered wood panel market. Developed by Columbia Forest Products in conjunction with scientists at Oregon State University, the first PureBond® hardwood plywood products were produced in 2005. Since then, more than 50 million panels have been shipped.
PureBond® formaldehyde-free technology continues to be a market differentiator for woodshops that cater to a health-conscious, quality-focused clientele. Over 850 fabricators have joined the PureBond Fabricator Network (http://www.cfpwood.com/Fabricators/PFN) to identify themselves as leading-edge suppliers who are thoughtful about the materials they use, and who wish to serve customers who care about good indoor air quality and maximizing property resale values.
About Columbia Forest Products
Established in 1957, Columbia Forest Products is America's largest manufacturer of decorative hardwood plywood and hardwood veneer. An employee-owned company, it operates facilities throughout North America. It is a leader in sustainable forestry, as well as in developing innovative and environmentally friendly technologies and products for healthy indoor living.
Columbia Forest Products has provided fine decorative hardwood plywood veneer panels to North American fabricators for 55 years. The company is committed to offering the industry's widest product selection, manufactured in efficient, technologically advanced mills, and backed by exceptional service and product support.