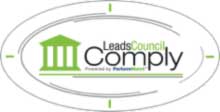 New York, NY (PRWEB) March 15, 2013
The LeadsCouncil, the industry organization dedicated to advancing online lead generation, is teaming up with PerformLine, the makers of the PerformMatch™ compliance monitoring solution, to establish the LeadsCouncil Comply Badge. The announcement was made in advance of the LeadsCon, the lead generation conference, which begins on Monday in Las Vegas.
The LeadsCouncil Comply Badge powered by PerformMatchTM is the industry's first identification badge for marketers who wish to visibly demonstrate their commitment to upholding regulatory compliance guidelines.
"A self-monitoring compliance program is something the industry has been wanting for some time," stated Michael Ferree, Executive Director of the LeadsCouncil. "LeadsCouncil members are united in a common goal of promoting best practices and fostering trust. With the Comply badge lead sellers now have the ability to show that they are committed to compliance while giving lead buyers the confidence to buy from Comply monitored sellers."
LeadsCouncil choose the premier compliance monitoring platform, PerformMatch, to power their badge process for partners because it will automatically analyze the marketing content of specific web pages for compliance with federal regulations.
"We've been helping lead sellers and lead buyers with their compliance monitoring programs at the enterprise level for over three years and now, through Comply we're excited to provide a lightweight public facing version of our technology," stated Alex Baydin, CEO PerformLine (developer of PerformMatch). "The Comply badge program is a great way for publishers to prove to their lead buyers, their users, and federal regulators that they are committed to compliance. We're excited to provide the PerformMatch technology to enable this important and exciting initiative from LeadsCouncil"
After a simple sign-up process, partners can post the Comply badge on selected pages. Then the PerformMatch proprietary technology kicks in to analyze each page and provide a page compliance grade of Good, Fair or Poor, along with a list of any potential violations found. The Comply pages are analyzed once per month with the option for site owners to request a page re-score when changes have been made.
Comply offers three tiers of URL coverage based on the number of distinct URL's that are analyzed monthly: up to 25 URLs, up to 50 URLs and Comply site-wide allows for up to 5,000 URLs.
Attendees of the LeadsCon conference will be able to sign up for a free 30-day trial of Comply or see a demonstration on the exhibition floor at the LeadsCouncil booth #T20 or at the PerformLine booth #319. To learn more, visit http://www.leadscouncil.com.
About LeadsCouncil
LeadsCouncil is the first independent industry organization dedicated strictly to advancing online lead generation. LeadsCouncil members include lead buyers, lead sellers, technology solutions providers, and investment professionals with a passion for the lead generation industry. The group focuses on best practices, research, education, and networking to provide a more transparent and effective marketplace for online lead generation. http://www.leadscouncil.com
About PerformLine
PerformLine develops and delivers the most advanced compliance monitoring services for marketers. Leading companies looking to optimize their businesses choose PerformMatch™ to discover, monitor and enforce regulatory and brand compliance. PerformLine, Inc. is headquartered in Morristown, N.J. For more information about PerformLine and the PerformMatch compliance platform, visit http://www.performline.com or call 973.590.2305.
Contact:
Michael Ferree
Phone: 619-618-1200
http://www.leadscouncil.com