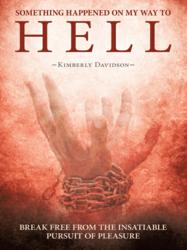 Good habits keep us connected to our real self, to others and God. Bad habits isolate us from the world.
Portland, OR (PRWEB) March 18, 2013
After analyzing her own addictive behaviors through a spiritual lens, author Kimberly Davidson finally broke free of the daily challenges and cravings that plagued her life.
"We all love something too much. And we want to know that when we struggle we're not alone in our fears, our sorrows, our defeats and our hopes," said Davidson.
Through personal experience, author Kimberly Davidson writes about how to live a healthier life, stop harmful practices and challenge inaccurate beliefs through the power of God's Word in her new book, 'Something Happened on My Way to Hell.'
'Something Happened on My Way To Hell' offers women a 12-week spiritual guide to breaking free from negative addictions and cravings through the use of Scripture, biblical counseling action steps, and the author's own personal experiences.
After receiving her master's degree in specialized women's ministry from Western Seminary in Portland, Ore, Davidson knows how to speak directly to her audience about the importance of living a healthier life – free from personal addictions, insatiable cravings and the heartache of constantly wanting more.
"Every battle with addiction and compulsive behavior begins with an earnest attempt to change the behavior," said Davidson. "Good habits keep us connected to our real self, to others and God. Bad habits isolate us from the world."
Davidson's goal is to equip readers with a 12-week 'how-to' guide to help them overcome their daily addictions, large or small, and derive a greater sense of meaning from life while growing closer to God.
For more information, visit http://www.olivebranchoutreach.com.
Something Happened On My Way To Hell: Break Free From the Insatiable Pursuit of Pleasure
By Kimberly Davidson
ISBN: 978-1-4497-7853-8
Paperback: $19.95
About the author
Kimberly Davidson received a MA from Western Seminary. She is a board-certified biblical counselor and spiritual development coach. She has ministered to women for more then 10 years, inspiring them to empower God to meet their emotional and spiritual needs. Davidson is also a leader with ARMS (Abuse Recovery Ministry Services) and teaches at Oregon's Coffee Creek Correctional Facility for women. She is a Pregnancy Resource Center (Care Net) volunteer; and a guest instructor at Western Seminary on the subject of eating disorders and body image. Davidson was also a licensed minister for five years.