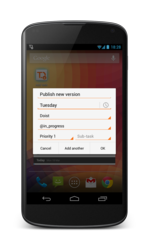 "Our commitment is to adapt Todoist so it takes advantage of each platform's unique features and our Android widget truly shows this"
Santiago de Chile (PRWEB) March 19, 2013
Todoist, created by Doist, announces the addition of two new widgets for Android smartphones that will make keeping tabs on tasks easier than ever.
The first, an Add Task widget, will allow Todoist users to add tasks directly from the home-screen of their Android smartphone without ever having to enter the app itself. The "add new" button allows users to consecutively add tasks without having to re-open the dialog. This widget undoubtedly improves the user experience of Todoist for Android making adding tasks entirely effortless.
A Task List widget was also added which now permits Android users to see a complete overview of tasks at hand. The tasks are ordered into lists such as "today," "seven days," or per project (also per label or filter for premium users). Without having to access the Todoist app, users can now add tasks directly from this widget and perform actions on existing tasks like: complete, postpone, edit, or view the task's notes. Also, press the TD icon and the app will launch with the same view you're currently seeing in the widget. Tap the title (today, next seven days, or a project/label/filter) and you'll be able to choose a different view without re-adding the widget.
Todoist has also built a Task List widget for older Android versions considering that nearly 30% of Todoist for Android users use Android 2.3 or below. These versions do not support scrollable widgets — therefore, in this Task List version, one presses the arrows to navigate back and forward. All other details of the widget work in the same way as the version for newer Androids. These users can share the same seamless task management experience.
"Our commitment is to adapt Todoist so it takes advantage of each platform's unique features and our Android widget truly shows this," comments Amir Salihefendic, Todoist's founder.
In addition to the two new widgets, this Todoist for Android release contains a significant amount of updates and new features. These include: a new task layout, new settings (both app-related and Todoist-related), and a quick add task feature which allows you to add a task from virtually anywhere, including other apps.
For more information about Todoist, please visit Todoist and to download please click: Todoist for Android or Google Play Store
About Todoist
One of the first available task-management softwares on the market, Todoist, launched in 2007, is a powerful task manager for personal productivity that lets users manage tasks from their inbox, browser, desktop, or mobile device. Todoist is available on nine different platforms and is used by over 500,000 people (many from Fortune 100 Companies like IBM, Oracle, and HP) who have completed more than 20 million tasks. Todoist, built by a 13-person virtual team, is proof that amazing technology can be built outside of Silicon Valley by focusing on staying lean, working virtually and finding amazing talent around the world.
Press Contact | Amir Salihefendic | amir(at)todoist(dot)com | Telephone +1-866-329-1530
Screenshots and logos (Zip file)