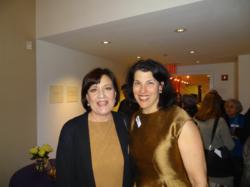 Our goal is to enable older adults, no matter how frail they might be, to experience the manifold joys and benefits of music
New York, NY (PRWEB) March 15, 2013
In keeping with a long-held belief that the arts play a crucial role in seniors' lives, DOROT offers older adults an array of intergenerational activities and programs in the arts, including music, dance, theater, photography, and more.
For mobile elders, opportunities abound at DOROT to engage in musical activities. The Kol DOROT senior chorus meets weekly for practice and rehearsals, and averages two public performances a year. Three annual concert series regularly bring both world-renowned musicians and up-and-coming performers to the agency's headquarters. Performances include classic string chamber music, pianists and singers, and interactive performances that engage the audience members and keep them learning.
Homebound seniors can choose teleconference classes covering opera, classical music, pop songs, and/or show tunes. The agency also partners with other organizations to bring musicians into the homes of the very frail for private concerts. In a new pilot program, teenage volunteers visit DOROT seniors in their homes and introduce them to the workings of the iPod Shuffle. The teens interview the seniors about their musical tastes, create a playlist for each senior, program the device, and teach the seniors how to use it.
Addressing the area of music in particular, Dr. Louise Montello, an internationally known authority on music and healing, offered a presentation at DOROT on March 6 reviewing the science behind the health benefits of music, especially for the elderly. She also demonstrated specific techniques utilizing music to release tension and manage pain.
"Our goal is to enable older adults, no matter how frail they might be, to experience the manifold joys and benefits of music," said Mark L. Meridy, Executive Director of DOROT. "We are continually expanding our music programs. Happily, technological advances have enabled us to put these joys literally at the fingertips of our older friends."
Since 1976, DOROT has worked to alleviate social isolation among the elderly and provide services to help them live independently as valued members of the community. We serve the Jewish and wider community, bringing the generations together in a mutually beneficial partnership of elders, volunteers and professionals.