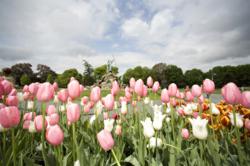 Albany, NY (PRWEB) March 20, 2013
From the bright lights of the cities of Albany, Troy, Schenectady and Saratoga Springs to the quiet countryside and lakes of Washington County and Fulton County, the Capital-Saratoga Region offers visitors looking for a spring getaway history, special events, theater, concerts, wineries, antiques, architecture, outdoor recreation, culinary delights and more.
Fanciful Flowers
The 65th Albany Tulip Festival is scheduled for Mother's Day weekend, May 11th and 12th. The event features live music, children's activities, great food, a nationally renowned craft show and over 100,000 tulip bulbs blossoming into a sea of colors. Visitors can also enjoy the arrival of spring at the Annual Daffodil Brunch held at historic Oakwood Cemetery, home to Earl Chapel's Tiffany windows, Uncle Sam's grave, and a 100 mile view.
Sweet Maple Syrup
Spring is Maple Syrup season in the Capital-Saratoga Region and several events offer visitors tours, tastings and more. Maple Weekends, which are organized by the New York Maple Producers Association, offer visitors an inside look at Maple Syrup production throughout the region. Maple Weekends began on March 16th and 17th and will also be held on March 23rd and 24th. Visitors can learn about maple sugaring, eat pancakes for breakfast or lunch, and enjoy a variety of fun family activities.
Farms and Fiber
The 21st Annual Farm and Fiber Tour on April 27th and 28th in Washington County offers visitors the chance to learn more about the farms and farmers, as well as the many uses for fiber produced by alpacas, goats, sheep and rabbits. The event includes spinning, weaving and felting demonstrations at participating area farms.
Horses Galore
If you love horses, Saratoga is always a great place to visit. Enjoy the skill and competition at Dressage at Saratoga, held Memorial Day Weekend, May 24th through May 26th or the Saratoga Springs Horse Show, held May 1st through 5th and May 8th through 12th. This show has been a Saratoga tradition for over 50 years and features hunters, jumpers and equitation classes. The 150th anniversary of Saratoga Race Course, Saratoga150, kicks off Memorial Day Weekend with a family night at the Saratoga Performing Arts Center on May 24th. This is one of over 150 events planned from May through September to commemorate this historic milestone.
On Stage
Les Miserables, Penn and Teller: No Tricks Just Magic and Peter Pan highlight the spring performance line-up at Proctors. Capital Repertory Theater's must-see performances for its spring season include: The Single Girls Guide and Red. Visit http://www.capital-saratoga.com for more information on performing arts venues in the region.
For more information on these spring events, getaway opportunities, vacation packages and more, visit http://www.capital-saratoga.com.
About The Capital-Saratoga Tourism Region
New York's Capital-Saratoga Region is made up of Albany, Fulton, Rensselaer, Schenectady, Saratoga and Washington Counties. With museums, wineries, performing arts venues, thoroughbred racing, hiking, fishing, farmers' markets, art galleries, festivals and more the Capital-Saratoga Region offers much for travelers to see and experience. http://www.capital-saratoga.com