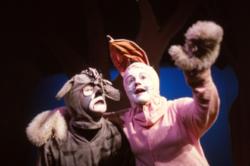 Modesto, CA (PRWEB) March 18, 2013
The Gallo Center for the Arts and Modesto Performing Arts are collaborating to present the children's story "The House at Pooh Corner," based on the characters created by A. A. Milne in his Winnie the Pooh book series. The production is on Saturday, April 6, at 2 pm.
Tickets are $8, $12 and $15, and may be purchased online at GalloArts.org, calling (209) 338-2100, or at the Gallo Center ticket office, 1000 I Street in downtown Modesto. Organized groups of 15 or more people receive a 15% discount on ticket prices. Group sales information is available by calling (209) 338-5062.
"These are not the 'Disney-fied' Pooh characters people have become so familiar with," said director Paul Tischer, founder of Modesto Performing Arts. "Our production very faithfully adheres to the book." Tischer said the play is suitable for children seven and up, but not for very young children.
The play brings together stories about Winnie-the-Pooh and Piglet building Eeyore's house, Tigger's arrival in the Hundred Acre Wood, Rabbit's plan for reducing Tigger's bounce, and Christopher Robin's growing up and leaving for school.
The cast for "The House at Pooh Corner" is comprised entirely of local actors.
Modesto Performing Arts is Modesto's oldest community theater. The organization previously teamed with the Gallo Center in December on a popular production of "A Christmas Carol."
The Gallo Center's 2012-2013 Premier Partner is Boyett Petroleum.