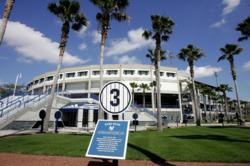 Tampa, FL (PRWEB) March 17, 2013
The Florida Gulf Coast is home to a wide array of exciting events and famous attractions. However, there are few things that attract the attention of visitors more than New York Yankees Spring Training.
The New York Yankees ball club brings a dedicated fan base to Tampa Bay every year during the months of February and March. However, due to the popularity of this event, traffic can be a problem during this time. Out-of-town visitors without a vehicle may find it challenging to enjoy all of the festivities and activities in Tampa during this time. As a result, U-Save is providing its customers with discount car rental rates during Spring Training.
For visitors that haven't been to Spring Training in Tampa before, George M. Steinbrenner Field is not a typical Spring Training ballpark. It boasts one of the largest seating capacities in Florida's Grapefruit League, seating more than 10,000 fans comfortably. A full practice field with bleacher seating, concessions and bathrooms is adjacent to Steinbrenner Field.
With a discount car rental from U-Save, out-of-town baseball fanatics won't have to miss this year's games. With U-Save's mobile-friendly website, smartphone and tablet users can quickly reserve a discount car rental right from their mobile device. Traveling customers can make a reservation, modify a current reservation, or contact the U-Save customer service team. Baseball fans enjoy the affordability and flexibility that an online car rental provides.
For those flying into the Tampa, FL airport, U-Save offers fast, friendly, and affordable car rental services. With more than 30 years of operation, U-Save continues to provide discount car rentals at more than 200 locations across the globe. From local airports to some of the world's most popular vacation destinations, U-Save makes the car rental experience easier.