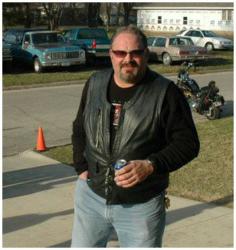 (PRWEB) March 19, 2013
Tom DeVries is a Fleet Manager for a beer distributor based in Iowa. When he's not working, he loves spending time with his wife and kids, boating, golfing, refurbishing his '77 Corvette, and riding motorcycles in his spare time. Thanks to his entries in the Harleys for Heroes annual sweepstakes, Tom can now enjoy riding motorcycles more than ever. Tom DeVries is the lucky winner of the 2012 Harleys for Heroes Giveaway Sweepstakes, and the proud new owner of a Harley-Davidson® Street Glide® and a Harley-Davidson® Fat Boy Lo®!
Harleys for Heroes is a campaign run for the veteran's charity, Healing Heroes Network (HHN). Participants can donate for chances to win Harley-Davidson motorcycles. Healing Heroes Network is a 501(c)3 charitable organization based out of Palm Harbor, FL. HHN provides financial assistance for military personnel who were injured in the line of duty while serving in Iraq or Afghanistan since September 11, 2001. The Harleys for Heroes Sweepstakes is a national campaign to spread awareness and raise funds for HHN's honorable cause.
Tom's interest in Harleys for Heroes was piqued after seeing his wife and his cousins "Like" the campaign on their FaceBook pages. He checked it out, was very interested, and bought a few ticket entries. Tom figured it was going to a good cause and, like most people, never expected to win. Helping out the troops returning from overseas was more than enough motivation to enter the drawing. However, when the drawing came, Tom received the coveted phone call from Healing Heroes Network Executive Director Stacey Spiegel, declaring him the winner. He could not believe his good fortune!
When asked if he wanted say something to the veterans Healing Heroes Network helps, he replied, "Keep up the good work. It is hard and sometimes may seem thankless, but what they do is more than worth it to the people of America and those we help around the world. Remember that there are millions in the U.S. that are proud of you and support you 100%."
The 2012 Harleys for Heroes Sweepstakes started July 1, 2012, and ended February 15, 2013. The new 2013 Harleys for Heroes Sweepstakes begun on February 23, 2013. For more information on Harleys for Heroes, people can go to http://www.HarleysForHeroes.com. For more information on the Healing Heroes Network and the work they do, please visit http://www.HealingHeroes.org.