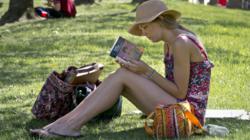 the tuition reduction for summer classes makes it more affordable to take courses during the summer and continues to provide students the opportunity to stay on track toward their degree
Montclair, NJ (PRWEB) March 17, 2013
Summer Sessions at Montclair State University offers students the opportunity to get ahead, focus on a challenging course, catch up, or in some cases lighten their course load in future terms, all while staying on track to graduation. In an effort to provide students access to the benefits of summer classes, the University has approved a significant reduction for summer session tuition compared to last year.
To help students plan for summer, the University's Summer Sessions 2013 schedule is available online. Summer registration is currently open to both Montclair State University students and to "visiting students" from other colleges. Students can view the course schedule and learn more about Summer Sessions at Montclair State University by visiting montclair.edu/summer. Visiting students can complete the Visiting Student Information form and find additional information through Montclair State's Summer Session website, montclair.edu/summer.
"With the economic realities facing our students and their families, the tuition reduction for summer classes makes it more affordable to take courses during the summer while continuing to provide students the opportunity to stay on track toward their degree," explains Associate Dean for Extended Learning Jamieson Bilella. Tuition for a three credit undergraduate course is reduced to $935. This is a 12.5 percent reduction over last year's summer tuition rates. The tuition for six credits has been reduced to $1790, or a 13.5 percent reduction. In addition, the more courses/credits students enroll, the greater the savings. This summer, undergraduate students may earn up to 15 credits and save up to 17 percent on tuition. Tuition payment plans are also available.
Additionally, parking fees and housing have been reduced for the summer. Current Montclair State University students who register for summer courses will not have to pay a parking fee. Also, any student desiring housing for the summer will be able to take advantage of a 10 percent reduction in housing costs compared to last year. Student summer housing does not have any credit requirement and flexible arrangements are available.
Summer Sessions registration is open, providing students the ability to register for classes 10 weeks prior to the start of the University's first session on May 20. Registration will continue throughout the summer for the University's nine summer sessions, with sessions beginning in May, June, July, and August. Sessions range in duration from three weeks to twelve weeks, but include four week, five week, six week, and eight week options.
Complete information regarding the schedule, online and hybrid course offerings, registration dates, tuition, payment options, housing, and more are all available online at montclair.edu/summer.