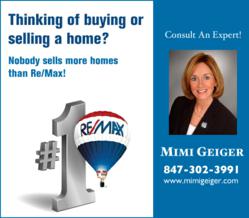 Huntley, IL (PRWEB) March 17, 2013
The Home Show with Mimi Geiger will launch on March 18 for Huntley Community Radio (http://www.huntleyradio.com), an all-volunteer station that streams on the internet.
Geiger's show will feature local people in the community, sharing tips and advice for homeowners and those interested in buying or selling a home. Guests include Mr. Roy Diez, long time editor of architectural and building publications with the wealth of knowledge of the housing market, market trends and especially active adult (over 55) communities; and Mr. Sheldon Clark, Financial Advisor, Edward Jones, Huntley, Il. Mr. Clark provides insight regarding what a financial advisor can do to secure your financial future, both for young people just starting their portfolio, as well folks of all ages looking to use the services of a financial advisor.
Huntley Community Radio is a 501 (c)(3) dedicated to its community and is volunteer-run. Their mission is "Keeping Huntley Informed and Connected".
For more information about the radio program or about The Mimi Geiger Team, please visit http://www.mimigeiger.com or call 847-302-3991. The Mimi Geiger Team is located at ReMax Unlimited Northwest on 12376 Princeton Dr. in Huntley, IL.
The Mimi Geiger Team
Mimi Geiger is a native of Chicagoland. Following a twenty-year career with United Airlines as a Customer Service Agent and International Concierge, Mimi is now following her passion for homes and has dedicated her new professional life to serve the community as a diligent real estate broker placing the community's interests at the top of her priorities. Her experience in the marketplace is second to none, with results for her clients, proving to be amazing.
About NALA™
The NALA (National Association of Local Advertisers), a small business association, is for local business owners offering new online advertising & marketing tools, great business benefits, education and money-saving programs, as well as a charity program.
PR Contact: Tiffani Tendell
805.650.6121 x361
ttendlell(at)starkartthenala.com
###