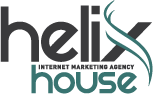 Innovation is key to success in online marketing...
Albuquerque, NM (PRWEB) March 19, 2013
Helix House, a rapidly expanding and highly successful Search Engine Optimization and online marketing services provider, announces 2012 growth results and numbers that prove hard work and dedication do indeed pay off. The company has seen steady annual growth that is quickly getting noticed in SEO, marketing, and web development circles. A hands on CEO and co-founder, Michael Donato has received numerous awards including the Arizona Republic's coveted award for top Entrepreneurs under 35 years of age. Considered one of the leading 20 Internet businesses in the United States, Helix House is paving the way for new and innovative approaches to highly fluid SEO and online marketing strategies.
From its successful 2006 inception to its ongoing steady growth, Helix House has been steered carefully by its two highly qualified visionaries and co-owners, Michael Donato and Alona Rudnitsky. With clearly defined goals for becoming the best SEO and Internet marketing agency in the nation, Helix House is on track to break year over year records well into 2013 and beyond. Co-founder Michael Donato says of the companies recent high ranking by the respected "Top SEOs," a trusted Search Engine rankings and tracking organization the following:
"We are incredibly excited to be adding to our long list of accreditations."
In addition, Helix House managing business partner Alona Rudnitsky has made it very clear and has stated that the company is one of the few truly self-funded organizations in the Search Engine Optimization industry. Helix House is steering a course for noticeable growth in the burgeoning field of Internet marketing and Search Engine Optimization strategies. Few companies have the dedication and commitment to customer satisfaction that Helix House has consistently demonstrated over the years. Placing clients first and developing lasting business relationships with customers is a core value of Helix House. Co-owner Alona Rudnitsky has been quoted as saying:
"Innovation is key to success in online marketing, and our firm does not take that challenge lightly. With a banner start to 2013 and the ground-breaking product lines we currently have in development, saying we are excited about what this year has in store would be an understatement."
Helix House continues to impress onlookers and is not resting on its 2012 successes but is rather forging ahead firmly into 2013 with new SEO ideas and marketing innovations that will likely draw the attention of experts throughout the industry. Helix House will be a force to be reckoned with in coming years as the company further solidifies its position in Arizona and across the nation. Thinking outside the box along with cutting-edge innovation are what has allowed the Internet to become the global force it has become, and with that same fervor Helix House will continue to help clients stake their claim on the Internet and to successfully reach their unique business goals.
Helix House is a highly innovative forward looking Internet marketing agency located in sunny Arizona and breezy New Mexico that has consistently exceeded industry expectations to continually rank highest among some the best SEO companies in the country.