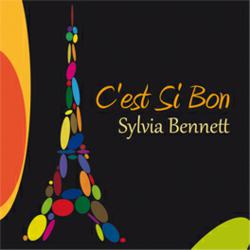 The inspired musical arrangements can be credited to Producer Hal S. Batt, who has worked with some of the world's foremost artists, including Julio Iglesias and Chayenne
(PRWEB) March 18, 2013
April in Paris is an irresistible time of love and wonderment, but in 2013 a special celebration will heighten the city's magic... Marking the release of C'est Si Bon, Sylvia Bennett's new album, the American diva will enchant audiences with a concert at the Renaissance Le Parc Trocadero Hotel on April 15th, beginning at 9:00 p.m. A cash bar will be available. The concert, which is part of the hotel's RLife Live Event series, will include songs from her new all-French-language CD as well as selections from Sentimental Journey, the Grammy-nominated album she recorded with her mentor, the late Lionel Hampton. This tribute to the legendary artist commemorates what would have been his 105th birthday on April 20th.
With such songs as "C'est Magnifique," "Un Homme et Une Femme," and "La Vie En Rose," the CD C'est Si Bon is the stuff of which dreams are made, delivering promises of thrills and romance in Paris, the very mecca of seduction. Sylvia has never sounded better, crooning these timeless classics in a voice like velvet, textured with emotion, and flawlessly enunciated. The inspired musical arrangements can be credited to Producer Hal S. Batt, who has worked with some of the world's foremost artists, including Julio Iglesias and Chayenne.
C'est Si Bon will be available on Amazon.com, Cdbaby.com, iTunes, and your favorite digital download store, as well as http://www.sylviabennett.com.
To obtain more information, promo requests, or to set up an interview please contact Janet Moorhead at 786.205.1895 or by writing her at Janet(at)sylviabennett(dot)com.