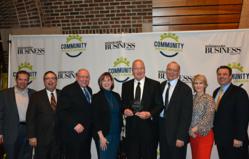 Minneapolis, Minn. (PRWEB) March 19, 2013
CSM Corporation has announced their honor at the inaugural Community Impact Awards, held Thursday, February 21st at the McNamara Alumni Center on the University of Minnesota campus. The awards were established by Minnesota Business magazine to recognize companies and company initiatives that make a positive impact on Minnesota communities. CSM Corporation received the "Workplace Giving Campaign Award," which celebrates a successful employee giving or volunteer campaign created by a company for a specific nonprofit organization.
"This is such an honor for us at CSM Corporation," said Bill Upshaw president CSM Lodging. "We've partnered with Ronald McDonald House Charities for the past two years, and truly believe that the people of our organization gained more from the relationship than we could possibly have given. There is something about giving back that fills you with joy and appreciation." Upshaw continued with, "This award belongs to our 2200 employees, who are the heart and soul of our partnership with Ronald McDonald House."
Over the past two years, CSM Corporation has been actively involved with Ronald McDonald House Charities, Upper Midwest Division, and earlier this month capped that involvement with a donation of $86,975. The company, which owns and operates 38 nationally-branded hotels across the country through the subsidiary CSM Lodging, selected Ronald McDonald House Charities in 2012 as their companywide charitable partner. Along with CSM Corporation's Home Office contribution, many of the company's employees actively donated resources, in-kind gifts and personal time, working with Ronald McDonald Houses in more than five states across the country.
The Ronald McDonald House program provides a "home-away-from-home" for families of seriously ill or injured children, so they can stay close by their hospitalized child at little or no cost. CSM Corporation is one of the largest corporate contributing partners to Ronald McDonald House Charities Upper Midwest.
About CSM Corporation
CSM Corporation, founded in 1976, is headquartered in Minneapolis. CSM Corporation engages in the acquisition, development, leasing, management, and ownership of quality real estate assets. The company's extensive portfolio includes retail, office, industrial, multi-family residential and hotel properties across the continental United States. For more information, visit http://www.csmcorp.net.
###