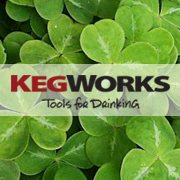 Buffalo, NY (PRWEB) March 15, 2013
While St. Pat's day has certainly become a big party, it's important to respect those who view this celebration as more than a time for drinking green beer and playing Irish for a day. The folks at KegWorks investigated three of the most controversial St. Patrick's Day traditions just in time for Sunday.
1. The Black and Tan: While the phrase "Black and Tan" does refer to the drink made from a blend of Bass and Guinness, it has another less pleasant meaning as well - one the Irish don't take kindly to. In the 1920s, during the British occupation of Ireland, the "Black and Tans" were a unit of brutally violent British soldiers fighting against the Irish Republican Army (IRA). The Black and Tans, named after their makeshift uniforms, were known for shooting blindly into crowds, often killing innocent civilians. Needless to say, it's wise think twice before ordering this drink at an authentic Irish pub.
2. "Patty's" Day vs. "Paddy's" Day: The name "Patty" is short for Patricia, and also means "burger." The word "Paddy" is derived from the Irish name, Pádraig, or "Patrick" in English. Thus, the proper way to abbreviate St. Patrick's day is to say "St. Paddy's Day." Use "Patty" and you'll likely offend many Irish men and women.
3. The Corned Beef Association: Many old school Irish will tell you that corned beef and cabbage isn't exactly the iconic meal of their people. In Ireland, most people ate pig on a regular basis - particularly bacon and sausage. The corned beef became a thing in 20th century New York, when city bars offered a "free lunch" of corned beef to the Irish construction workers who were building the city, which is how the meat became known as an "Irish" food. True Irish are more likely to enjoy Bacon or sausage paired with boiled potatoes and cabbage on St. Paddy's day.