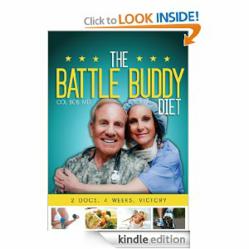 2 Docs, 4 Weeks, Victory
Palos Verdes, California (PRWEB) March 17, 2013
Faced with their own insidious weight gain and the relentless progression of diseases brought on by excessive abdominal fat and eating the wrong foods, this doctor couple devised their own simple "Battle Plan" to reclaim their health.
After thoroughly researching all of the creditable medical literature, they devised and executed their simple 4 week "Battle Plan" that resulted in mutual, effortless weight loss, reversal of early disease and greater energy and happiness. Working as domestic "Battle Buddies", supporting each other, they were able to adopt a life-style, for life, that insures disease-free, functional longevity. This book is their story and their "Battle Plan".
The facts contained in this book are shocking: obese people and even normal weight or thin people that eat the wrong foods (Western Diet), have been proven to be at high risk for developing diabetes, heart disease stroke and cancers. All of the latest, sobering facts about nutrition, food and disease are elucidated in this eye-opening book. Dr. Slay lists the "12 lethal" foods that should be permanently eliminated from your diet, and tells you why.
As a practicing Emergency physician, Dr. Slay is frustrated by the tsunami of aging Baby Boomers flooding the emergency room with end-stage diseases like heart attacks, strokes and cancers. Dr. Slay laments, "I feel like I am putting band aids on bleeding arteries, and the amount of suffering these people endure is heart-rending. It doesn't have to be that way".
Drs. Brenneman and Slay's comprehensive review of the medical literature supports the fact that reversal of obesity, and eating the right diet, can prevent and even reverse these diseases and cancers. Medications, and most surgeries, only treat the symptoms of, or attempt to slow the progression of, such chronic diseases as diabetes, hypertension, heart disease and stroke: traditional medicine does not offer prevention or a cure. "The Battle Buddy Diet" does both.
"The Battle Buddy Diet" is about a real doctor couple's personal battle against their own obesity and disease. This is exactly how they did it. This is information most doctors doesn't know. Dr. Slay believes the majority of aging Baby Boomers and their families are headed for relentless diseases, unimaginable suffering and premature death. This book maintains that now, is the time to fight back, and reclaim health. This book has the answer, a proven "Battle Plan".
About the Author: Dr. Slay is a 66 year old practicing Emergency Medicine physician in Marina del Rey, California. He is a graduate of the Virginia Military Institute and the Medical College of Virginia. He is a highly decorated, retired Colonel from the US Army and served for 21 years. During his active duty service, Dr. Slay was consultant to the Surgeon General and was a member of the elite Delta Force during the hostage rescue attempt in 1980. In 1990, Colonel Slay re-entered active duty for one year to support Desert Storm. Currently, Bob is a fellow of the American College of Emergency Medicine, is board certified in Internal Medicine and Emergency Medicine, and is an oral examiner for the American Board of Emergency Medicine. He has been married to Gayne Brenneman, M.D., his "Battle Buddy", and a practicing Cardiac Anesthesiologist, for 38 years. They have two adult children. Dr. Slay has written and starred in multiple episodes of the television series, "Untold Stories of the ER", and performs medical stand-up comedy as a hobby.
Dr. Slay is available for interviews, appearances and speaking engagements.
###