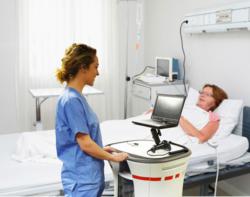 Our patients are happier and so is our staff.
Denver, CO (PRWEB) March 19, 2013
Swisslog, a leading supplier of automation and software solutions for healthcare material transport and medication management, today announced results for its MedRover Mobile Dispensing Cabinet's first year of operation at Bacharach Institute for Rehabilitation in New Jersey. Bacharach nursing management reports an increase in staff workflow efficiency following MedRover implementation, allowing nurses to spend more time with their patients. Their new med pass workflow, coupled with Bacharach's dedicated staff, has given patients more satisfactory experience while at the facility.
"Prior to the implementation of MedRover, our nurses spent much of their time obtaining medications and supplies for their patients," said Maria Fuddy, Bacharach's vice president of Nursing & Patient Care. "This, coupled with documentation requirements, was taking them away from their patients. Using MedRover, nurses are able to get medications to their patients in half the time and are able to spend more time with patients and their families explaining each medication and treatment thoroughly. Our patients are happier and so is our staff. "
MedRover is the only fully integrated mobile dispensing cabinet designed to increase nursing and patient satisfaction. Giving nurses all essential medications and supplies in a single mobile unit allows them to spend more time providing uninterrupted patient care. MedRover offers secure, high-capacity storage of patient-specific medications, narcotics, floor stock and supplies in a single mobile unit; with a lower total cost of ownership than automated dispensing cabinets.
"We are thrilled with the positive results nurses and patients are seeing with MedRover," said Bill Park, Swisslog's vice president of Mobile Dispensing Solutions. "Our goal in developing this workflow solution was to change the way that nurses obtain and administer medications by giving them everything they need for their patients in a single device."
By improving workflow to eliminate wasted steps and waiting, nurses get to spend more time with patients, increasing their safety and satisfaction. Notes Park, "MedRover is just one part of the equation; the staff at Bacharach is the driving force behind their patients' great experience."
MedRover will be featured at the Association of Nursing Executives (AONE) Annual Meeting and Exposition, March 20 – 23, 2013 in Denver, Colorado. There, Swisslog representatives will demonstrate how MedRover transforms nursing by shifting its focus from medication distribution and administrative activities to patient care and safety. For more information about MedRover Mobile Dispensing Cabinets, or to download a case study about the Bacharach implementation, visit http://www.swisslog.com/medrover.
Swisslog Healthcare Solutions (HCS) is the leading supplier of automation and software solutions for material transport and medication management in healthcare facilities. Swisslog has installed facility-wide and pharmacy automation systems in more than 3,000 hospitals worldwide, including more than 2,000 in North America. Denver-based Swisslog Healthcare Solutions offers total system design, manufacturing, installation and customer support – providing an integrated solution for lean workflow and operations that enhances information access, patient safety and cost efficiency.
About Swisslog
Swisslog is a global provider of integrated logistics solutions for warehouses, distribution centers and hospitals. Its comprehensive services portfolio ranges from building complex warehouses and distribution centers to implementing Swisslog's own software to intra-company logistics solutions for hospitals.
Swisslog's solutions optimize customers' production, logistics and distribution processes in order to increase flexibility, responsiveness and quality of service while minimizing logistics costs. With years of experience in the development and implementation of integrated logistics solutions, Swisslog provides the expertise that customers in more than 50 countries rely on.
Headquartered in Buchs/Aarau, Switzerland, Swisslog currently employs over 2,000 staff in 20 countries worldwide. The group's parent company, Swisslog Holding AG, is listed on the SIX Swiss Exchange (security number: 1232462, Telekurs: SLOG, Reuters: SLOG.S). For more information, visit http://www.swisslog.com.