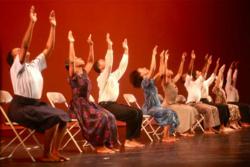 Modesto, CA (PRWEB) March 19, 2013
Lula Washington Dance Theatre, the Los Angeles-based repertoire dance ensemble critically hailed for its innovative and provocative choreography, will present "The Little Rock Nine" for its debut performance at the Gallo Center for the Arts. The production takes the stage on Tuesday, April 9, at 7 pm.
Tickets range in price from $10 to $45, and may be purchased online at GalloArts.org, calling (209) 338-2100, or at the Gallo Center ticket office, 1000 I Street in downtown Modesto. Organized groups of 15 people or more receive a 15% discount on ticket prices. Group sales information is available by calling (209) 338-5062.
In conjunction with their performance, Lula Washington Dance Theatre also will be conducting a series of dance workshops in Modesto and neighboring cities. Information about the workshops is available by calling (209) 338-5020.
Lula Washington Dance Theatre, founded in 1980, has garnered international acclaim by using dance to explore social and humanitarian issues, including aspects of African-American history and culture. The troupe is comprised of young, athletic dancers, many of whom were groomed in the company's inner city dance studio.
"The Little Rock Nine," choreographed by Lula Washington, is a hard-hitting work that is a tribute to nine African American students who risked their lives by enrolling in an all-white, segregated school in Little Rock, Arkansas, in 1957. The company also will perform "We Wore the Mask," a work celebrating the removal of figurative 'masks' that African Americans once needed to survive in America.
Boyett Petroleum is the Gallo Center's Premier Partner for the 2012-2013 season.