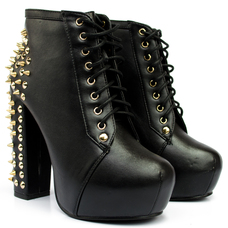 These in your face expressions are now at home on the runways of New York, Paris, London and Milan.
UK (PRWEB UK) 17 March 2013
Fashion chain iKrush has unveiled a brand new range of spiked and studded heels; as the trend takes the fashion world by storm.
From the catwalk to the high street, one of the hottest trends for spring summer 2013 is eye-catching spikes and studs. They're showing up everywhere, including the brand new range of sky-scraping killer heels at the iKrush online store. But while these studded high heels are inspired by the latest luxury fashion trends, they don't share the luxury fashion pricetag.
That's the beauty of iKrush.
The Toril Leather Spiked Lace Up Boots from iKrush are the perfect example of spiky, rock and roll chic. Gold studs run the length of their heel, and a platform sole makes them surprisingly comfortable despite their awe-inspiring height. They're fierce and fashionable, but a fraction of designer prices. They're just one example of the studded high heels available from iKrush, and the ideal statement piece for any up to date wardrobe.
A subtler look is available in the Harmony Spike Toe Platform, with their classic court heel, perfect when teamed with a classic dress for elegance with an edge.
Spikes and studs promise to be a staple of spring summer 13. Once consigned to punk rock circles, these in your face expressions are now at home on the runways of New York, Paris, London and Milan. The iKrush store offers and range of spike wedges and platform heels, including the gravity defying Hilda Studded Inward Curve Wedges in a choice of colours.
Shy girls who aren't as comfortable with statement heels can get their spike fix through accessories. Spiked bracelets, cuffs and studded bags a great way to incorporate this hot new trend into your ensemble; and studs aren't only way the stand out this season.
The iKrush online store is also offering a range of glitter platform heels, like the Katia Red Sole Glitter Party Ankle boots, available in gold and silver. But for a summer daytime look, customers can also choose from a range of cute summer wedges, including the Daisy Retro Multi Coloured Splash Stud Platform Wedges, complete with psychedelic floral print.
Visit the iKrush store today to explore all of these hot new trends and take advantage of excellent customer service and value for money. iKrush offers less spend and more trend. The store is run by fashion lovers for fashion lovers and customers can even get help and advice on style tips and celebrity fashion looks.