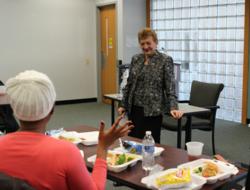 We are pleased to welcome Dr. Dann-Messier and to showcase some of our outstanding programs designed to create a skilled workforce in Kentucky — KCTCS Board of Regents Chair P.G. Peeples
Lexington, KY (PRWEB) March 17, 2013
Dr. Brenda Dann-Messier, assistant secretary for the Office of Vocational and Adult Education, U.S. Department of Education, met with the Kentucky Community and Technical College System (KCTCS) Board of Regents today to applaud the System's career and technical education (CTE) efforts and to discuss the Department of Education's vision to transform the CTE system.
"We are pleased to welcome Dr. Dann-Messier and to showcase some of our outstanding programs designed to create a skilled workforce in Kentucky," said KCTCS Board of Regents Chair P.G. Peeples. "This is an affirmation of our mission of being the nation's premier community and technical college system."
Dr. Dann-Messier presented the four core principles for transforming CTE and ensuring students receive a rigorous, better-tailored education to acquire the skills they need to compete and succeed in today's workplace. These principles include: (1) Effective alignment between CTE and labor market needs to equip students with 21st-century skills and prepare them for in-demand occupations in high-growth industry segments; (2) Strong collaboration among secondary and postsecondary institutions, employers, and industry partners to improve CTE programs; (3) Meaningful accountability for improving academic outcomes and building technical and employability skills in CTE programs, based upon common definitions and clear metrics for performance; and, (4) Increased emphasis on innovation supported by systemic reform of state policies and practices to support CTE implementation of effective practices at the local level.
During her two-day visit to Kentuck, she also toured Bluegrass Community and Technical College's (BCTC) Leestown Campus, home to the majority of the college's technical programs. She also visited the BCTC-Fayette County Opportunity Middle College which allows high school juniors and seniors a chance to take college classes while earning their high school diplomas. Additionally, she toured BCTC's Georgetown-Scott County Advanced Manufacturing Center and training facility at Toyota.
"I am very pleased to have had the chance to meet with key education and workforce development leaders in Kentucky during the past two days. This visit was a great opportunity to hear and see first-hand all the impressive work being done in Kentucky's community and technical colleges and adult education programs to equip all Kentuckians with the knowledge and skills they need to participate and thrive in the 21st Century economy," said Dann-Messier.
Other action taken by the KCTCS Board of Regents included:

Naming of the Bryant Stiles Training Facility at the Wendell H. Ford Regional Training Center for State Fire Rescue in Greenville, Kentucky
Ratification of the approval of seven new credit KCTCS occupational-technical certificate programs
Approval of five associate in applied science programs including: Associate in Applied Science in Clinical Laboratory Technician and Criminal Justice for Maysville Community and Technical College; and Associate in Applied Science in Automotive Technology, Diesel Technology and Medical Information Technology for Owensboro Community and Technical College
Approval of 4,694 candidates for credentials (certificates, diplomas, and associate degrees) between October 5, 2012 and January 17, 2013. These include: 3,045 candidates for certificates, 438 candidates for diplomas, and 1,211 candidates for associate degrees
The next KCTCS Board of Regents meeting will be held on June 14, 2013 at Southeast Kentucky Community and Technical College, Cumberland, Kentucky.