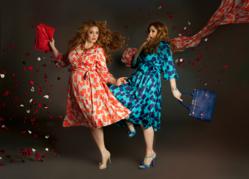 This is a very exciting and timely collection because of both the theme and the introduction of some fresh, innovative design details. IGIGI by Yuliya Raquel Design Team
San Francisco, CA (PRWEB) March 19, 2013
Spring Awakening, the new collection from award-winning, American plus-size brand IGIGI by Yuliya Raquel, is now available for the curvy fashionistas at http://www.igigi.com. Inspired by the whole mesmerizing adventure of falling in love from the first giddy moments to the intoxicating full-blown sensation of dizziness, the pieces deliver a new excitement for life full of feelings of rebirth and newness. Vivid prints in bright colors, girly digital accents, sensuous lace, and flirtatious asymmetric draping all invoke an irresistible invitation for love and romance.
"This is a very exciting and timely collection because of both the theme and the introduction of some fresh, innovative design details. We added new silhouettes including a more contemporary take on our signature fit and flare style in order to provide more variety as well as new draping and seam placement techniques that will better flatter the plus-size figure," stated the IGIGI by Yuliya Raquel Design Team.
Shot in studio by Mark de Paola with the gorgeous plus-model Kailee O'Sullivan of MUSE Model Management, Spring Awakening Collection provides the dream wardrobe for the fashion conscious curvy beauty from asymmetrically draped jersey work dresses to separates in bold prints to lusciously adorned wedding gowns. Price range is $62 - $450.
Headquartered in San Francisco, CA, IGIGI by Yuliya Raquel was founded in 2000 with a mission to transform the world's view of beauty by providing full-figured women with fashion-forward, quality, and well-fitting clothes that would help express their beauty. Collections are designed in-house and produced locally through independent San Francisco Bay Area contractors. IGIGI by Yuliya Raquel has been featured in major fashion and life style magazines including In Style, Marie Claire, The Oprah Magazine, People StyleWatch, Ladies' Home Journal, Glamour, and Essence, and it has been a favorite among curvy celebrities like Kim Coles, KayCee Stroh, Jill Scott, Kelly Price, Ashley Fink, Martha Wash, and Gabourey Sidibe. IGIGI by Yuliya Raquel collections are available online at http://www.igigi.com and select boutiques worldwide. IGIGI by Yuliya Raquel was honored with the Best Plus Fashion Retailer of the Year award (Full Figured Fashion Week, June, 2010), and made Internet Retailer's Top Hot 100 list (December, 2010), and received About.com Critics' Choice Best Plus Designer Award (March, 2011).