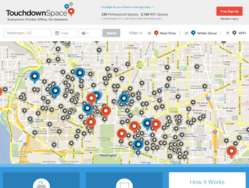 TouchdownSpace is everyone's private office, on-demand but people don't need an office environment every day. — CEO and Co-Founder Caleb Parker
Washington, DC (PRWEB) March 18, 2013
TouchdownSpace, Inc. a Washington, D.C.-based technology startup that enables everyone to book flexible, professional workspace on-demand via an iPhone App and/or online via the company's website, announced it has added a free service to help mobile workers find over 2,000 wifi hotspots in the Washington, D.C. Metro market, in addition to its network of 240 professional touchdown spaces in 65 locations. The news comes just shy of the company's one month anniversary of launching the DC market.
"TouchdownSpace is everyone's private office, on-demand," says CEO and Co-Founder Caleb Parker, "but people don't need an office environment every day. Most people who work outside of a traditional office, however, do need an internet connection everyday to access the cloud and stay productive. Some days we need a professional office, and other days we just need a place to touchdown between meetings."
The announcement follows news of Yahoo and Best Buy temporarily reigning in their work-from-home employees which sparked debate over teleworking in human resource blogs, major publications, and across social media. The business case for working outside the traditional office environment has been recorded by the Mobile Work Exchange, as more than 135,000 people who pledged to telework during last week's annual Telework Week collectively saved $12.2 million and removed 7,842 tons of pollutants from the air.
Parker believes the shift to a mobile workforce will not only continue to grow, but is the inevitable centerpiece of the future of work. The wifi product supports the company's mission to help people work better, by providing an easy way to find informal places nearby to touchdown when they need it. Wifi hotspots include coffee shops and cafes, restaurants & pubs, hotel lobbies, public libraries and other publicly accessible locations.
About TouchdownSpace, Inc.
TouchdownSpace lets people reserve professional offices and meeting rooms on-demand, giving people a professional environment just when they need it, and helping companies break free of expensive leases so they can invest capital into growing their companies. Reservations can be made by the hour or by the day, and managed from within the mobile app, or at https://www.touchdownspace.com
For more information, contact CEO Caleb Parker at 202-350-4130 or email caleb(at)touchdownspace(dot)com.