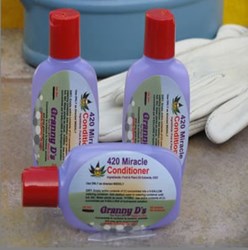 Tacoma, Washington (PRWEB) March 16, 2013
The medical marijuana industry's number one cannabis-based advertising portal for all medical marijuana dispensaries, board-certified marijuana doctors, marijuana lawyers, dispensary general services and hydroponics shops, PotLocator.com, is pleased to announce a new name to their already ample clientele roster. With the recent addition of Granny D's Miracle Products to the PotLocator roster, PotLocator will now be appealing to those in need of gardening products to help regulate and control cultivation. By featuring a reputable and trustworthy name in cultivation products, PotLocator is never straying from their limestone intention of only providing the medical marijuana industry with the most legitimate and bonafide amenities.
Granny D's Miracle Products is a company that formed upon the foundation of believing that all medical plants, whether in home or in an outside garden or greenhouse, are in need of being able to receive an affordable and efficient growing superior in order to maximize vegetation potential. However, the only stipulation is that all products must be of the highest quality and must be formulated using 100% completely natural and non-toxic sourced ingredients found right here in the United States. What separates Granny D's aside from most cultivation product companies is that all of Granny D's formulated concentrates are sourced from the highest quality suppliers located in Tacoma, Washington and have been perfected over time to become the miracle formulas they are today, since the 1970's. With a formulation to cultivation success only a couple clicks away, Granny D's products are certainly a force to be reckoned with and prove to be worth the investment. A few examples of some of the products featured through Granny D's that have gained reputable acclaim would be the Miracle Conditioner, Shock-B-Gone!, and the Miracle Pest Repellant.
Granny D's Miracle Conditioner is a soil conditioner that is essential to any cultivation early beginnings. This is a soil that you add to your local soil before beginning any processes involved in planting of medical marijuana. When using Granny D's Miracle Conditioner a regular basis alongside your watering habits, you will instantly notice your plant has no build up and is on it's way to becoming a happy and healthy plant. The Miracle Conditioner can be used on all of the plants in your home, any outdoor potted plants, any greenhouse vegetation and all of your indoor plants. The soil conditioner however cannot be used in a hydroponic environment because this will kill your plant.
During the process of transplanting your plant, the plant may sometimes go into shock even if it was clean, well taken care of and perfect. Granny D's Shock-B-Gone! is a shock resistance treatment that can be used for transplanting your plants or also used as a once-a-month vitamin boost to keep your plant healthy and strong. This specific shock resistance treatment is a product that even Granny D uses exclusively on all of their products. A unique feature of this treatment formula is that it can sit for thirty days and can be used after storage.
After getting your hands dirty for quite some time in the cultivation process, you will sooner or later come to face a foe that can easily be repelled with the right treatment - pests. These pesky pests are able to completely destroy all of the plants in your garden if they are all located within the same room. Pests find indoor environments to be absolutely ideal for their lifestyle, as they are enriched with food and possess no natural enemies to pose a threat. Granny D's Miracle Pest Repellant is a miracle formulation that can be sprayed upon the bottom of the leaves, the base soil and the stem in order to rid your plants of any pests that try to compromise your growing.
PotLocator is honored to feature a team such as Granny D's that is so highly committed to vastly improving the quality of a gardeners growing cycles. Testimonial after testimonial proves that a high percentage of business at Granny D's is a direct result from supplying customers with only the highest quality and most natural products in the United States. PotLocator let's the endless amount of repeat customers and outstanding referrals do the talking when it comes to the legitimacy and high-functionality of any Granny D products. Along with serving your cultivation needs, Granny D's natural and non-toxic products are also great for strawberry plants, raspberry bushes, tomato plants, blueberry bushes, potato plants, rose bushes, potted house plants, hydroponic garden plants, backyard plants and any greenhouse vegetation.