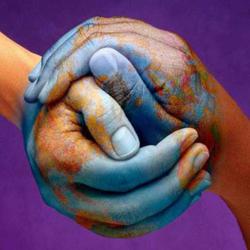 Whatever the implications for the world at large, the effect of globalization on restaurant franchises is likely to be one of prosperity.
Los Angeles, CA (PRWEB) March 15, 2013
In honor of Pi Day, which is the somewhat geeky mathematical celebration of pi (3.14) on March 14th (3.14), AccuPOS is offering its own mathematical breakthrough (and a bigger slice of pie) by developing multi-location central management for its restaurant POS software. More pie for everyone!
The world is flat (and getting flatter)
As Tom Friedman noted several years ago, globalization is significantly altering the way different industries work, from education to finance to restaurant POS software. With the rapid development of the so-called BRIC countries (Brazil, Russia, India, China), it was only a matter of time before everything from Starbucks franchising to investing at Goldman Sachs became more centralized. In developing a multi-location central management feature for its latest iteration of restaurant POS software, AccuPOS will bring the same centralized approach to restaurants with multiple franchises.
Everything, everywhere, all the time
There are positives and negatives to globalization; for instance, most Americans are glad they can access their Bank of America accounts from overseas, through Barclays and BNP Paribas, among others. Opinions are split on whether or not it is a good thing that you can order the same caramel macchiato in New York as you can in Zurich. As a negative, globalization has posed a problem for U.S. politicians in that they are sometimes unaware that their portfolios include, for example, investments with countries (Iran, North Korea) against which the U.S. has imposed sanctions. Whatever the implications for the world at large, the effect of globalization on restaurant franchises is likely to be one of prosperity; the homogeneity of consumption can mean nothing but good for restaurant franchises.
More of what to expect from AccuPOS' centralization of POS software:

Franchised central management
Enhanced security from virus threats.
More control for the system administrator.
Restaurant POS software that provides access to all reporting in real time from across the globe.
More targeted customer tracking abilities, which will improve accuracy for better loyalty management.
An auto-gratuity option, which will allow clients to quickly and painlessly add tips in various denominations.
Inventory tracking that links with your accounting system.
About Attitude POSitive:
Attitude POSitive is the creator of AccuPOS (Point of Sale) inventory management and time clock software for the retail and hospitality industries. The AccuPOS family of products, designed to be faster and easier than a cash register, offers unmatched ease of use, security and cost-effectiveness to streamline the sales process.
AccuPOS products, based on open standards, expand the capabilities of an existing accounting program and allow users to grow and change without being locked into proprietary vendor products. AccuPOS products are integrated with the most widely used accounting packages, including the QuickBooks, Sage 50 – U.S. Edition, Sage 50 – Canadian Edition and Sage 100 ERP products.
Founded in 1999, Attitude POSitive is headquartered in Los Angeles with regional offices throughout the United States as well as in Europe and Israel. For more information, visit http://www.accupos.com.
Contact:
AccuPOS
Alexandra Le
800-906-5010 x615
alexandral(at)accupos(dot)com