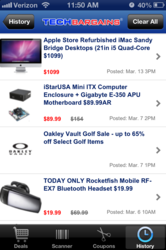 With our mobile app shoppers can take the savings on the go and never miss a deal.
San Francisco, CA (PRWEB) March 18, 2013
TechBargains.com, a deal aggregation website for electronic products, announced the release of its new mobile application for iPhone users. The free app allows shoppers to shop smart while on-the-go using a combination of three money saving techniques; coupon codes, up to the minute deals, and a bar code scanner. Features of the new TechBargains.com iPhone app include:

Easily find coupons for dozens of stores
Browse "Recent" and "Hottest" categories to find great deals
Benefit from exclusive deals only found on TechBargains.com
Create "Deal Alerts" for specific products and be notified when a bargain is found
Scan UPC codes to find the lowest price
Share money saving offers with friends through email, Facebook and Twitter
"For 14 years, TechBargains.com has been a trusted tool for shoppers looking to save on all their technology needs," said Yung Trang, president and editor-in-chief of TechBargains.com. "Now with our mobile app, shoppers can take the savings on the go and never miss a deal, whether they are comparison shopping in store or using a coupon code to purchase right from their phone."
TechBargains.com's deals and coupons are never computer generated. The money saving offers are the result of research by an expert international team of bargain hunters and reader feedback.
For more information about TechBargains.com's mobile app, including an instructional video, visit Techbargains.com/apps/tb. Shoppers can download the TechBargains.com's App for free by going to the Apple iTunes Store.
About TechBargains
TechBargains is a deal aggregation website that combines expert curation and a real-time price-value discovery algorithm. TechBargains uses this technology to highlight the best deals and coupon codes on the internet each day. TechBargains is a division of Exponential Interactive (http://www.exponential.com), a global provider of advertising intelligence and digital media solutions to brand advertisers headquartered in Emeryville, California that offers solutions in 26 countries worldwide. For more information visit http://www.techbargains.com.