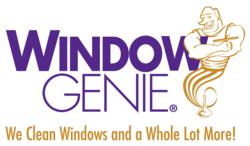 Cincinnati, OH (PRWEB) March 15, 2013
It's that time of year again. The days are getting longer, and it's a good thing too! There is suddenly so much to do around the house. Spring cleaning can be a daunting task without a proper game plan. Many homeowners are able to tackle the tasks inside their home, but how many are able to get on a ladder and completely clean their own windows, siding and gutters? How many homeowners are comfortable doing that, and furthermore, have the tools and supplies to do so? Residents and small businesses in the Naples, FL area don't have to worry about those chores this spring. Window Genie announces the grand opening of their newest location, opening in Naples, FL on Monday, March 18. Window Genie is the Cincinnati based franchise of home services known to "Clean Windows and a Whole Lot More!" Other services include window tinting, gutter clean-out and pressure washing.
Before joining the Window Genie team, Dove worked in the window industry for 45 years. He was in charge of sales at his family's business. After retiring and spending a few years out of work, Dove realized he still had a lot of drive and desire to own and grow a business. Dove began by looking at a list of over 2,000 franchises. He quickly determined he was most interested in a homer service franchise and cut his list down to a painting franchise, a property management franchise and Window Genie.
Something that attracted Dove to Window Genie initially was the growth and success the company has been experiencing in the past few years. "I wanted to be part of a growing business that's doing well," he said. Window Genie was recently ranked #190 on Entrepreneur Magazine's Franchise 500 List for 2013; up 217 spots from the 2012 list where they ranked #407.
What Dove said stood out about Window Genie throughout the discovery process was the amount of corporate support offered to each franchisee. Window Genie employs a full-time corporate staff to help each franchisee grow in their market with branding, marketing, publicity and advertising. Dove said, "I'm comfortable and experienced with sales, I know I'll be able to build a loyal customer base eventually. Window Genie is able to support me in my weaknesses, like marketing and technology. Marketing my business and getting off the ground would be much harder had I started a business from scratch. Also, having a full week of training on the accounting software is great because I'm not exactly the best at working with computers. The help and support has been tremendous so far and I haven't even opened my doors yet."
Dove is excited, anxious and prepared to hit the ground running when he officially opens for business Monday, March 18. He said, "I'm glad to have the freedom to be myself and run by own business. I want to create relationships with customers and establish Window Genie as a dependable, trusted business in my community. There is competition in my area, but that does not discourage me. It's encouraging to know there is a want and need for my services. I know the people in my community, and they'll appreciate Window Genie for who we are, not just what we do. Window Genie has a tremendous community service program established throughout the entire system as a part of their culture. I know my community values giving back, so we intend to use our business to make our community a better place to live and work."
Window Genie offers a variety of home services including window cleaning, window tinting, pressure washing, gutter clean-out and more. Each Window Genie technician is fully trained, bonded, insured and background checked. To learn more, or for a free estimate, call Bruce Dove at (239) 676-1469 or email him at bjdove(at)windowgenie(dot)com
Window Genie franchise opportunities are available nationwide. To view their online virtual brochure, visit windowgeniefranchise.com.
###