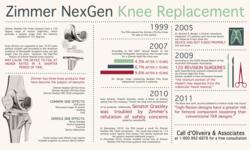 (PRWEB) March 19, 2013
In 1994, the FDA approved the first Zimmer NexGen Knee replacement system which was touted as advancement in knee implants according to the Zimmer company website. The design of Zimmer NexGen Flex Knee differs from traditional knee replacement systems due to it being manufactured using Trabecular Metal, a "porous metal," and surgical cement as opposed to traditional materials (i). Marketed by Zimmer to have a 155 degree range of motion, the NexGen Flex Knee was intended to provide more flexibility over traditional knee implants (ii).
The law offices of d'Oliveira & Associates have posted a new infographic that provides current information regarding the Zimmer NexGen Flex Knee Replacement system and many safety concerns surrounding the device. Concerns addressed within the infographic include common side effects associated with the device, which may involve stiff joints, swelling or more serious effects like nerve damage (iii). Longevity of the devise and its possible failure rate is another issue examined by the infographic. Implanted knee devices are meant to last an average 10 to 20 years without incident and according to the American Academy of Orthopedic Surgeons many traditional systems last even longer than 20 years (iv). Based on court documents the Zimmer NexGen Flex Knee systems may have a higher chance of failure within in a shorter period of time then traditional knee implant devices (U.S. District Court of Northern Illinois under the multidistrict litigation (MDL) case number 2272).
In 2005, Zimmer consultant, Dr. Richard A. Berger, implanted 125 patients with the Zimmer NexGen Flex Knee device and according to the New York Times article, after follow-up X-rays showed the device had not fused properly and was loose Dr. Berger filed safety complaints with the Zimmer Company (v). By 2007 Dr. Berger had promptly stopped implanting patients with the Zimmer NexGen Flex Knee device (v). According to a 2010 SEC report filed by the company, the Zimmer NexGen CR-Flex Knee was the subject of a 108 patient study (The High Failure Rate of a High-Flex Total Knee Arthroplasty Design) conducted by Dr. Berger and Dr. Della Valle. The results of the study showed that the doctors "revised 9 (8.3%) patients for femoral loosening and pain (vi)." Additionally, "39 (36%) patients showed evidence of radiographic loosening and that 'loosening and revision were not related to surgeon, approach or patient type (vi).'"
The Zimmer NexGen Flex Knee infographic provides a list of possible side effects as well as informing consumers of recalls for Zimmer knee products. Visit the Zimmer webpage and view the infographic here: Zimmer NexGen Knee Infographic.
If you or a loved one has been injured by a Zimmer NexGen Flex Knee, you may want to speak with a personal injury lawyer regarding a potential claim. A defective device lawyer familiar with new developments in the investigation of Zimmer knee products may be able to assist you in making important personal and legal decisions. Our firm is working with some of the leading Zimmer lawyers in the country who are handling these cases.
Please contact the law offices of d'Oliveira & Associates, P.C. at 1-800-992-6878 or fill out a contact form for a free legal consultation.
Sources:
(i) http://www.zimmer.com/en-US/hcp/knee/our-science/trabecular-metal-technology.jspx
(ii) http://www.zimmer.com/en-US/hcp/knee/product/nexgen-lps-flex-mobile-lps-mobile.jspx
(iii) http://www.zimmer.com/content/pdf/en-US/Package-Insert-(87-6203-765-09).pdf
(iv) http://www.aaos-annualmeeting-presskit.org/2011/clinicalpressreleases/Clinical_1.html
(v) http://www.nytimes.com/2010/06/20/business/20knee.html?pagewanted=all&_r=0
(vi) http://www.sec.gov/Archives/edgar/data/1136869/000095012310023796/c56948exv99w1.htm