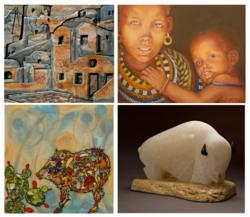 Scottsdale, AZ (PRWEB) March 17, 2013
Charles Huckeba's 'Goober Series' utilizes dried chips of paint applied in various layers creating an overlay that initiates a need for the viewer to look below the surface. Philip Feaster chisels memories of his childhood into slate. Beth Hyatt Rapp brings the Samburu Tribe of Kenya to her canvas and Jess Davila puts the finishing touches to The Davis C. Utz Award.
CHARLES HUCKEBA: Charles's current series is a palimpsest. Indeed, it could be said that Huckeba is a palimpsest! The origin of the word, 'Latin palimpsestus, from Greek palimpsēstos scraped again, from palin + psēn to rub, scrape; akin to Sanskrit psāti, babhasti he chews' summarizes both the artist and his art.
Huckeba's influences are varied, including Paul Klee, Jean Dubuffet, Adolf Gotlieb, Cy Twombly, Wassily Kandinsky, and Joan Miro. Charles and his wife Jill have spent years exploring, and recording the rich load of prehistoric pictographs and petroglyphs found in the Western United States Great Basin.
From his academic foundation, Huckeba combines and integrates various painting techniques to render rock art designs he had seen into a contemporary presentation. The results are works held in corporate collections of the University of Northern Arizona, the University of California at Santa Barbara Art Museum, the CEU Prehistoric Museum, and the Museum of the San Rafael.
His abstract contemporary art is also shown in fine art galleries, in Arizona. Numerous private collectors throughout the United States, England, and France. Huckeba states "Rock art is the first American Abstract art. What brings petroglyphs to life is the stone beneath the patina (a varnish created by the desert heat and elements over thousands of years). As the surface patina of the rock is removed, the interior is exposed. This is how we see the prehistoric artist's mark. "My paint application is multi-layered and textural. The image elements are scratched, etched, and scoured under and over the strata's of pigment such as the numerous superimpositions found in petroglyphs. My goal is to build a link between contemporary and prehistoric art."
Visit Charles Huckeba in his studio 46-47 or online at http://bit.ly/10O109D
BETH HYATT-RAPP: Beth is renowned for her remarkable portraits paintings of both humans and animals, particularly animals from Africa. The transition to the Samburu Tribe from Kenya, Africa was so natural, and the resulting collection is a must-see!
Growing up in Jacksonville, Illinois, as a child Beth always drew. "It was a wonderful pastime and gave me pleasure in entering contests where I was recognized for my ability to draw."
After graduation She moved to Chicago in pursuit of an art career at the Art Institute of Chicago, but being tall and thin, she found herself swept into the world of fashion. Growing up dancing and teaching dance during her teen years, it was as easy for Beth to move in front of a camera as it was for her to breathe.
Beth moved to Arizona in 2002 giving her the opportunity to devote her time solely to art. For the first two years, she did nothing but draw. Beth remarks, "When I felt I was ready to start painting, I was not sure which paints and brushes to use, or even how to begin a painting!"
Hyatt-Rapp enjoys watching people and animals, their actions and reactions to the environment around them. "I always carrying my camera with me where ever I go. I want to seek and capture their emotion, looking into the eyes. What are they thinking? What do they want? What is their character? Even though, the animals can't talk I want to convey what the animals are saying because they do speak a very loud universal language. I find as much emotion in my animal portraits as I do in my human faces."
Visit Beth Hyatt Rapp in her studio 92-93 or online at http://bit.ly/16vR9t7
JESS DAVILA: Jess can be found in his outdoor cabana at the Arizona Fine Art Expo, carving a menagerie of animals that capture the imagination, highlighting not only the beauty within the stone but Davila's extraordinary sculpting gift. Some ten years ago a client saw Davila's work and commissioned him to create The David C. Utz Award. He has been making the award every year since then and sending it to Minnesota to be handed out at the award ceremony. Carved in sandstone, while the pattern remains the same, every year Jess creates a new award.
Davila has found his market with his unique contemporary style. A wholly self-taught artist, Jess is inspired by the shape, color and texture of various stone mediums, including marble, alabaster, sandstone and limestone. Davila's unique stone interpretations evoke strong emotions from the viewer as they observe his profound appreciation of beauty that is apparent in every aspect of his pieces, from the natural patterns in a piece of stone to the flowing curves of a finished sculpture.
Davila is the founder of the Arts and Cultural Center in Huachinera, Sonora, Mexico Working along side several of his colleagues, the Center sits on approximately 10 acres of land and now has 6 buildings completed. Jess is giving back to his community that has provided him with so much artistic inspiration. His purpose for the center is to inspire the people of this region to find within themselves hidden artistic talents, and for them to experience the joy that creating art brings. The Centro Artistico y Cultural de Huachinera is a way of bringing the towns-people together to study and learn various artistic methods.
"The center is bringing jobs to the people of Huachinera and the surrounding Sierra Madre region, both of which  are becoming tourist attractions. People of all ages are taking classes on various subjects and are eager to continue learning."
Visit Jess Davila in his studio 52 or online at http://bit.ly/16vQVCp
PHILIP FEASTER: Philip's latest work is a triptych that encompasses his childhood memories of Kansas. It is a train car chiseled in slate, and as a 'reformed' engineer he has no problem with the specs! He and his brother Steve spent countless hours seeking refuge in an old train car that was on the property. Previously used for grain storage, it became the refuge, fortress and inspiration for childhood fantasies.
Watching Feaster working on this project he comments, "Steve died from Cancer, and while this is not a project that is in his memory, it is a project that keeps his memory close. This railroad car that I am working on is different from the boxcar of my youth, but it does evoke echoes of the past.  This is particularly the case with the way I am planning to make it look old and beat-up.  There is not one memory, good or awful, I have of growing up on the farm that does not include by big brother. "
Philip has no formal training and yet he has developed a style that is truly his own. His art covers various subjects including animals, landscapes and portraits.
Working with slate and stone, Feaster can be found chiseling away in his studio at the Arizona Fine Art Expo. 'The stone declares it's own spirit" says Feaster. "While this sounds a bit mystical, it is crucial not to force any particular subject on a stone. In a sense, the stone is the inspiration and helps to form the image." Feaster only creates original one of a kind, hand chiseled pieces of art.
Visit Philip Feaster in studio 24 or online at http://bit.ly/Z2vHo5
The Arizona Fine Art EXPO takes place January 10th - March 24th. 10am - 6pm at 26540 N. Scottsdale Road, on the southwest corner of Jomax and Scottsdale Roads, North Scottsdale. Season pass is $10.00, $8.00 for seniors and military. Children under 12 are free. Parking is free.
Call us 480-837-7163.
Visit us at http://www.arizonafineartexpo.com
Like us at http://www.facebook.com/AzExpo
Locate us at http://bit.ly/ZbCK09