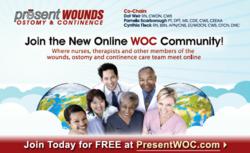 Boca Raton, Florida (PRWEB) March 19, 2013
PRESENT e-Learning Systems (PRESENT) launched their third online medical professional education community this week. PRESENT WOUNDS, OSTOMY and CONTINENCE for Nurses and Physical Therapists (PRESENTWOC.com) is a valuable new online educational service featuring free CE/CCU lectures designed to make the difficult job of taking care of wounds, ostomy and continence patients easier. Utilizing multimedia online lectures that simulate the lecture hall experience, and online community features such as blog discussion forums, chat rooms, and email ezine publications (WoundZine), PRESENT WOC creates an effective online community of learning, networking and collaborating for all who care for patients with wounds, ostomy, and incontinence.
Nurses and Physical Therapists will utilize PRESENT WOC to improve their skills, and learn from and interact with key opinion leaders and their peers, while keeping up with the latest advances in wounds, ostomy and continence care. PRESENT has now done for the field of wounds, ostomy and continence what it has successfully done in the fields of diabetes and podiatry.
The Co-Chairs for PRESENT WOC are Cynthia Fleck, RN, BSN, APN/CNS, ET/WOCN, CWS, CFCN, DNC, Pamela Scarborough, PT, DPT, MS, CDE, CWS, CEEAA, and Dot Weir, RN, CWON, CWS. This team has developed the online lecture curriculum with a world renowned faculty. The curriculum of over 40 initial evidence based lectures is now available for viewing on the site, featuring some of the finest names in wounds, ostomy and continence care.
The PRESENT WOC site has already received strong industry support from companies such as KCI, Shire and Applied Biologics. Click here to see a one minute video overview of PresentWOC.
About PRESENT eLearning Systems
PRESENT e-Learning Systems leads the field of online professional education using multimedia accredited lectures combined with social networking features, to simulate both the formal and informal education that clinicians experience at a live clinical conference. PRESENT e-Learning Systems approach is unique in that it creates communities of learning for medical professionals, where the participants collaborate with each other online and at its live conferences, to advance the science of medicine and way they treat their patients. Research into the way professionals learn has shown that clinicians learn best and are more apt to employ what they learn in the care of their patients, when they collaborate with one another, and have the support of their peers and trusted leaders, in changing their treatment and prescribing habits. PRESENT supports that trend by providing many opportunities for its members to talk to one another about the educational content that they deliver for them, using their revolutionary Mentor learning management system. Mentor employs online multimedia streaming education presentations, pre and post testing to calculate education outcomes scores, eZine publishing, its proprietary eTalk blog and Colleague Matching system. This is social networking for clinicians that has been proven to be the most effective means to advance clinicians' practice patterns. It is, in fact, what clinicians have always done to keep up in their field, but it had traditionally taken place LIVE in the hospital hallways and the lobby outside the lecture hall at live clinical conferences. This was old school medical networking. PRESENT NOW gives clinicians access to their peer network from their computer or their mobile devices wherever they are. Visit PRESENTeLearning.com for more information.