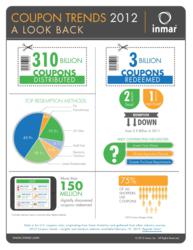 Winston-Salem, NC (PRWEB) March 15, 2013
Inmar today announced that its Coupon Trends Report – Insights and Analysis for year-end 2012 is available for download. The industry source for detailed promotion metrics regarding counts and trends for distribution, redemption, method, share and performance for 25 years, the 2013 edition of the report delivers two important new components:

Shopper insights: Results gleaned from the consumer research and findings from Inmar Analytics, which debuted in 2012 and is being led by industry veterans John Ross and Devora Rogers. Both joined Inmar from Interpublic Group's Shopper Sciences where they served as CEO and Group Director, respectively.
Key digital promotion metrics: While the digital promotion landscape continues to grow and evolve at a rapid pace, Inmar believes that the space has matured enough – and produced sufficient data – to begin speaking to tactics and trends for those channels and methods with a degree of confidence comparable to the paper-based promotions Inmar has supported for more than three decades now.
"We are very proud of this report – now in its 25th year of publication," says Inmar CEO David Mounts, adding that, "This edition takes the critical promotion data contained in the report and delivers an entirely new level of value through the inclusion of consumer research findings and the addition of digital promotion trends."
The report and all supporting information can be accessed at the company's website inmar.com.
Key trends include:
Coupon redemption is down significantly and macro-economic trends are not the reason. The decline in 2012 resulted from a gap that has arisen between consumer preference and the budget tightening that has taken place among many CPG marketers.
As CPG marketers pulled back in 2012, others such as ecommerce "Daily deal" sites (Groupon, LivingSocial, et al), and retailer/store discounts stepped forward to fill the void. All are all benefiting from the "tightening" of coupon tactics by manufacturers.
Consumer interest in coupons is extraordinarily high, particularly among new/emerging coupon user profiles including millennials, young adults and men. These groups are seeking out discounts more than ever, and they have more tools at their disposal for discovering them. These emerging multi-channel shoppers will bring a whole new era of insight-driven activation.
Digital promotions, though still small as percentage of the total, are growing to large enough levels for marketers to be able to track impressions, clicks and responses for shoppers who visit physical stores. Digital is giving marketers a view into offline purchasing that they have never before seen: who saw, who clicked, who bought, all in real time.
# # #
ABOUT INMAR
Inmar is a technology company that operates intelligent commerce networks. Our platforms connect offline and online transactions in real time for more than 1700 leading retailers, manufacturers and trading partners who trust Inmar to securely manage billions of dollars in transactions. Our Promotions, Supply Chain and Healthcare platforms enable commerce, generate meaningful data and offer growth-minded leaders actionable analytics and execution with real time visibility. Founded in 1980, Inmar is headquartered in Winston-Salem, North Carolina with more than 4,200 employees across the United States, Mexico and Canada.
For more information about Inmar's products and services, please contact 866-440-6917 or visit http://www.inmar.com.