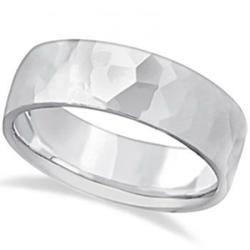 Gemstones, diamonds, curved and twisted bands; anything and everything goes when it comes to men's wedding bands.
New York, NY (PRWEB) March 20, 2013
Before choosing the perfect wedding ring for a man or a woman, there are a number of important factors to consider. This process seems particularly difficult for men. But there's no need to panic; choosing the perfect band that he will wear for the rest of his life is easy once you take the following into consideration:
Lifestyle
Comfort
Metal
Design
Matching Rings
Gemstone or Diamond Accents
A wedding expert at Allurez who designs and selects men's wedding ring styles said, "There are more choices in men's wedding bands than ever before. There's the simple carved traditional ring, or the one with a bit of bling, like diamond accented or men's gemstone wedding bands. And that's just the beginning of the choices. There's the metal to consider, the price-point, and most importantly, fitting in with the lifestyle of the wearer."
Although at the time of press there is no proven statistical answer, reports suggest that up to 80% of men choose to wear their wedding ring every day, or whenever possible. Unlike Prince William who said "I do," to marrying Kate but "I don't" to wearing a wedding band, most men like wearing them.
Many times a man's occupation and activities determine what wedding band he will choose. Extremely athletic minded men usually choose comfort bands in tough metals that are plain, slightly carved or simply braided. Men who wear their wedding bands more on the weekends go for a bit more flash, and choose rings with diamonds or subtle gemstone accents. Then of course there are those who select their wedding bands to reflect their cultural or ethnic background, i.e. Claddagh or Celtic rings, religious symbols, or diamond wedding rings with an Italian heritage. The most important thing to consider when wearing a wedding band is choosing one that fits in with his personal taste and lifestyle.
The Allurez spokesperson continued, "A lot of our customers are looking for matching bands, choosing similar or matching wedding bands to those worn by the bride. Another wedding band choice is rings with gemstone or diamond accents. They aren't really flashy, they tend to be with subtle additions of bling. And platinum rings are becoming increasingly popular."
For those men who just won't wear a wedding band, and for the women who want one to be worn, perhaps a band tattoo on the wedding finger will do the trick!
Allurez is an established designer and retailer that carries loose diamonds, diamond engagement rings, and other fine jewelry. In addition they have a complete create your own engagement ring section, and an entirely new men's wedding band section. They are headquartered in New York, where they have multiple offices. Their mission is to provide customers with high end jewelry at affordable prices, and to educate the public about the jewelry industry including industry trends. You can visit them online at http://www.allurez.com
Sources Include:
http://abcnews.go.com/International/Royal_Diary_Blog/royal-wedding-wedding-ring-prince-william/story?id=13268406
http://www.bloomberg.com/news/2012-10-11/why-grooms-wear-wedding-bands-but-not-engagement-rings.html
http://www.bbc.co.uk/news/magazine-12986535