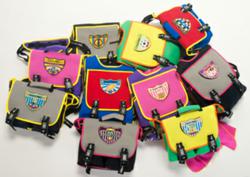 We are ecstatic that we were approached with the opportunity to work with Nancy and expand further throughout Canada, said Rena Stern, Co-Founder of SuperME
Quebec City (PRWEB) March 16, 2013
SuperME, a line of superhero-inspired products for kids, is thrilled to display their fun and handy collection at the Quebec Trade Show, which will take place March 16-17. SuperME is partnering with respected Canadian children's sales expert, Nancy Paquette, who will be showcasing a variety of products that are sure to soar through Canada with flying colors.
SuperME features products that encourage kids to express their individuality, like the Cape Backpack which allows little superheroes to quickly transform with a cape that appears from a hidden pocket. The Messenger Bag provides a hands-free way for children to carry their own lunch and superhero gear. SuperME also offers Utility Pouches and Masks which make great accessories for fashionable little superheroes. Their collection of Patches is designed so that children can customize their products with symbols of their achievements and hobbies. Later this year, SuperME will be releasing the Hoodie Backpack just in time for Back-To-School. It is designed with a built-in water resistant hood for school-aged kids.
"We are ecstatic that we were approached with the opportunity to work with Nancy and expand further throughout Canada," said Rena Stern, Co-Founder of SuperME. "We have seen immense success thus far and we cannot wait to see the response from this new partnership. The Quebec Trade Show is such a terrific show and we are grateful to have this chance to showcase our brand."
The show will take place at the Grand Times Hotel in Quebec. Nancy Paquette can be reached at 514-439-5045.
###
About SuperME
SuperME is a line of superhero-inspired bags including cape backpacks and messenger bags. Based in San Francisco, the company was founded in 2012 by two super moms, Daphne Kaufer and Rena Stern. The inspiration for SuperME came from their children, who love dressing up and carrying their own bags to school, the park, on day trips and even on vacation. The goal of SuperME is to create a line of functional products that are fun to play with and reflect the uniqueness of each child. For more information please visit http://www.supermehero.com.