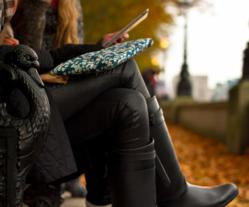 Our online store is about celebrating excellence in design and craftsmanship.
London, UK (PRWEB UK) 21 March 2013
Orange Bear is strongly focused on unique designs, uses only high-quality materials and works with a wide range of talented artists. Maria Grinkevich, CEO of Orange Bear noted: 'Our products are practical, fun and of premium quality.' Each piece is handmade by artists from all over the world, keeping style and sophistication in mind while ensuring the quality of the workmanship.
Each design is produced in limited quantities, so the customer knows that they are buying a truly unique item. Maria stated: 'We are not bringing our products from production platforms in China or India, we enter into a partnership with our artists and they set their price. Our online store is really about celebrating excellence in design and craftsmanship'.
The tablet computer industry is developing at a rapid pace. The market today has been flooded by thousands (if not hundreds of thousands) of iPad and Android tablet cases and covers. Orange Bear is positioned in an 'affordable luxury segment of the market' enabling customers to purchase a limited edition item for a fraction of a price fashion houses offer.
Orange Bear was launched in 2012 as a response to overcrowding of tablet accessories market with low-quality products made by exploited labour in developing countries. Being firmly committed to Fair Trade Practises, Orange Bear has successfully carved out itself a niche by producing premium and unique iPad cases while supporting a large number of independent designers all over the world. Orange Bear is a privately held company headquartered in London, UK.
To learn more about the company and see their latest collection, please visit http://www.orangebear.co.uk or alternatively email at info(at)orangebear(dot)co.uk. Currently Orange Bear is offering shipping to the UK and all EU countries.