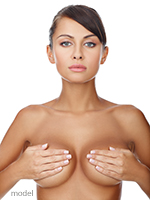 Los Angeles, CA (PRWEB) March 17, 2013
According to a March 11, 2013 Wall Street Journal article, advanced technology is responsible for a rise in silicone breast implant procedures. In 2006, the ban that had been placed on silicone implants was lifted. Advanced technology has diminished major concerns such as risk of leakage, infection, and scarring that led to the ban in the first place. (go to: goo.gl/L9UVd)
"It seems apparent to me," says Dr. Simon Ourian, Medical Director of Epione Beverly Hills, "that the vast majority of women seeking breast augmentation prefer silicone implants. It didn't take very long after the new, safer silicone implants were introduced for them to take over the market."
Successful technology developments have made silicone implants easier to remove. This, in turn, reduces the leakage problem that raised serious concern about free silicone being left in the body. This new development allows cosmetic surgeons the ability to better match a patient's reconstructed breast to the original.
After the ban on silicone implants was lifted in 2006, the stigma surrounding them remained, and only 20% of breast augmentation procedures used silicone. New statistics provided by the American Society for Aesthetic Plastic Surgery indicate that there were over 300,000 breast augmentations performed in the U.S. in 2012. A large percentage, 72%, used silicone.
Statistical information from 2011 established that removal of these implants will be required after ten years for patients. Removal will be necessary for 50% of patients following breast reconstruction. For breast augmentation patients, 20% will require removal within 10 years.
The approval by the FDA of the "form-stable" implant offers improved results for breast reconstruction following single-side mastectomies. Because of the silicone implant's natural teardrop shape surgeons are able to better match the remaining natural breast of the patients.
"As long as the silicone implants are safe, I'm all for women having this option," concludes Dr. Ourian. "Given the numbers indicated in the article, it's apparent that women are overwhelmingly choosing silicone implant."
Dr. Ourian has been a pioneer in laser technology and non-invasive aesthetic procedures including Restylane, Juvéderm, Radiesse and Sculptra. These treatments are used for the correction or reversal of a variety of conditions such as acne, acne scars, skin discoloration, wrinkles, stretch marks, varicose veins, cellulite, and others. More information about the rising popularity of silicone breast implants can be found on Epione's website.