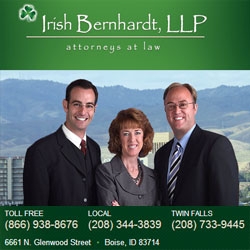 Tim is very compassionate and goes the extra mile for his clients
BOISE, ID (PRWEB) March 16, 2013
Irish Bernhardt LLP, a Boise firm specializing in disability law, announced that attorney Timothy G. Cluff has become a partner, effective January 1, 2013 ― three years after joining the firm.
Focusing on Social Security and Veteran's Disability claims, Cluff has shown a dedication to assisting the disabled with competence and caring. "Tim is very compassionate and goes the extra mile for his clients," said Debra Young Irish, managing partner for Irish Bernhardt.
Prior to joining Irish Bernhardt, Cluff worked as a registered patent agent at The Bateman IP Law Group in Salt Lake City.
Cluff received his juris doctorate degree from Brigham Young University, graduating magna cum laude. He earned his undergraduate degree from Brigham Young University as well (in Electronics Engineering Technology), graduating cum laude. He resides in Meridian, Idaho, with his wife Tiffini and their five children.
About the Firm
Cluff joins partners Debra Young Irish and Jacob Bernhardt in providing local, accessible, and caring representation to Idaho's disabled population. With over 30 years of combined service, Irish Bernhardt provides experienced and effective advocacy from the administrative levels all the way through Federal Court appeals for those pursuing benefits. Irish Bernhardt is also an active participant in the Boise community, and is happy to announce their sponsorship for the upcoming Bob Lebow Bike Tour in June for Terry Reilly Health Services.
For more information, please visit http://www.irishbernhardt.com, or call toll free at (866) 938-8676 or locally at (208) 344-3839.
Irish Bernhardt LLP
6661 N. Glenwood Street
Boise, ID 83714