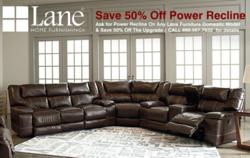 Reclining Lane sectionals and sofas make up a large percentage of our sales, and to offer a discount on a power upgrade for these products is our way of thanking our customers
Golden, CO (PRWEB) March 16, 2013
SofasAndSectionals.com is the leading e-retailer of quality home furnishings online, and now they are excited to announce a brand new promotion. From now until March 28, 2013, all domestic-made Lane reclining furniture is eligible for a 50% discount on power recline options. There has never been a better time for customers interested in power recline sofas, sectionals and recliners to take advantage of significant savings on motorized reclining furniture.
"Reclining Lane sectionals and sofas make up a large percentage of our sales, and to offer a discount on a power upgrade for these products is our way of thanking our customers for choosing us as their home furniture providers", exclaimed Bruce Tucker, Vice President of Marketing for SofasAndSectionals.com. Mr. Tucker went on to say, "Many of our customers dream of owning motorized reclining furniture, and now with this sale we can help them realize the added level of comfort that push-button reclining can offer".
Motorized recline is a small but powerful option that is available for most reclining furniture on SofasAndSectionals.com. Not only can people recline up and down without pulling a lever or shifting their bodies, but they can also choose to stop at any angle. This means that people can find their perfect comfort angle for TV watching, chatting with friends or taking an afternoon catnap. This offer is available for all Lane reclining furniture that is made in North America. Imported products are not included.
Many of Lane's popular reclining furniture products are part of this promotion including the Lane Summerlin Sofa Collection. The Summerlin 214 Collection combines the elegance of nailhead trim with the deep comfort of segmented back cushions to create a comfortable respite from the pressures of daily life. The Summerlin is available in a wide range of fabric, microfiber and leather upholsteries in different textures and colors. Another great choice for a power upgrade is the Lane Evans. The 323 Evans Sofa Group has many features borrowed from home theater seating including built in cupholders and drop-down tables.
Customers who are not looking for power recline furniture can also take advantage of savings in this promotion. Most other products on SofasAndSectionals.com also qualify for a 5% discount. To take advantage of the power recline or 5% discount, customers need only to call 888-567-7632 and speak with a qualified Sales Professional. The SofasAndsectionals.com Sales Team is made up of furniture industry veterans who are eager to lend a helping hand. Customers can also opt for the 5% discount by adding the Coupon Code MARCHSAS to the appropriate field in the online Shopping Cart.
About SofasAndSectionals.com – SofasAndSectionals.com is owned and operated by InteriorMark, LLC, which is a leading online retailer of brand-name home furnishings. Through its seven e-retail sites, InteriorMark, LLC provides name brand furniture at a significant savings for every room in the home. InteriorMark, LLC is a member of the National Home Furnishing Association and an A-rated member of the Better Business Bureau.