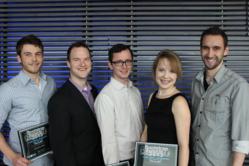 As a product and brand manager, I would have loved such a tool
Ottawa, Canada (PRWEB) March 18, 2013
Competitive Price Intelligence Company 360pi is pleased to announce its selection as the Gold Boot winner of the 2013 Bootstrap Award for Innovation in Engineering and Technology, awarded by the Exploriem Entrepreneur Network. This award comes on the heels of the company's selection as one of the Canadian Innovation Exchange's Top 20 in November 2012, and reinforces the groundbreaking nature of the company's cloud-based, Big Data price intelligence platform.
The host of the awards, Exploriem, is a not-for-profit organization that accelerates start-ups and other enterprises by offering them entrepreneurial services. Its goal is to mentor, teach, conduct research, host events and provide networking opportunities for its members. Exploriem also provides early stage funding and office or incubator space to help further entrepreneurship in Canada and around the globe.
360pi was the stand-out winner for the Innovation in Engineering and Technology award after a judging panel of industry experts reviewed all of the nominations. There were many additional competitors and five finalists in the category spanning the Canadian technology and innovation landscape. 360pi won for its XFiRE Retail Price Intelligence platform. 360pi was also nominated in the category of Fastest Growing Canadian company, winners of which will be announced March 21.
360pi's XFiRE platform is a massive datastore with complex fuzzy logic, artificial intelligence and language processing algorithms that monitor retail prices of millions of products across thousands of retail websites on a daily-or-better basis. 360pi's customers, whether they be retailers, manufacturers or other parties with an interest in retail price and product intelligence, subscribe to the company's datastore for a variety of critical purposes, such as:
-providing the price intelligence to fulfill in-store price matching policies
-proactively right-pricing products at retail
-monitoring compliance with minimum advertised price (MAP) policies
-monitoring pricing across retail channels
-analyzing and assessing competitor assortments to identify gaps and trends
Faced with ultra-informed consumers, frequent price changes and cutthroat competition, 360pi's retail price and product intelligence platform is now regarded as a business-critical service, and a competitive advantage by major retailers across North America.
"I was blown away by what 360pi is doing" remarked panel judge, Sue Hardman, one of the five originating founders of the Business Intelligence group at Cognos, later acquired by IBM. "I know from experience how challenging it is to develop the kind of platform that they have, and the value that retailers and manufacturers will derive from it in terms of a competitive intelligence toolkit. As a product and brand manager, I would have loved such a tool."
The winner of the Fastest Growing Company Award will be announced on the 21st of March, 2014, at the Exploriem Headquarters, where Ottawa Mayor Jim Watson and Councillor Rick Chiarelli will be in attendance.
To find out more about 360pi and its technologies, visit http://www.360pi.com.
About 360pi
360pi, a global leader in retail price intelligence, delivers online competitive monitoring solutions that give retailers complete visibility into their competitors' prices and assortments. Top retailers use 360pi's industry-leading match and accuracy rates – made possible by its proprietary artificial intelligence and cloud-based, Big Data capabilities – to enhance their pricing strategies and enable margin and revenue increases of up to 80%.