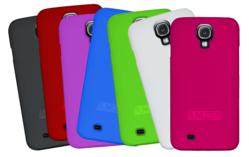 Amzer announced that it will be carrying over 40 different cases for the Galaxy S4
Houston, Texas (PRWEB) March 15, 2013
At an event in New York last evening Samsung® unveiled the new emperor of Android smartphones, the Samsung® Galaxy S4. Texas based Smartphone and Tablet accessory maker Amzer® has revealed the widest variety of accessories for the latest Android flagship from Samsung®. Amzer® announced that it will be carrying over 40 different cases for the Galaxy S4 which include the Shellster® and Jelly® series which together have till date sold over half a million pieces for the Samsung® Galaxy S3 alone. Along with other cases from the TPU, Snap-On, Luxe Argyle®, Hybrid and Duo Shield® series.
Shellster® is a premium offering from Amzer , Shellster® is a stylish, trendy and functional combo of Shell Case and a Holster. Shell case and Holster add up to the smooth, precise and bulk-free yet affordable protection, perfect for your smartphone. The Shellster® for the Galaxy S4 will retail at a very affordable price of $14.95 in 10 different colors. Jelly® Case is a great option for anyone who is looking for great protection for their smart phones and tablets. It is a breeze to use, providing excellent coverage, design, durability and functionality. Being cast out of a single piece of durable formulated silicone, the case is very tough and resilient. The Jelly® Case for the Samsung® Galaxy S4 retails for a very affordable price of $9.95 in 10 different colors. Duo Shield® the multi-layered protective rugged casing too will be available in 5 colors for a retail price of $49.95.
Amzer® will also be selling a host of accessories for the Galaxy S4 besides cases - such as the widely acclaimed ShatterProof® screen protector - which prove it's worth at CES 2013, Las Vegas in front of over 2,500 media persons going under the hammer and the drill. Amzer® will also carry the affordable yet durable Kristal® Clear Screen Protector; Armband, Customized Vehicle Mounts and the Piano Dock for the Samsung® Galaxy S4.
Amzer® promises to ship the accessories for the Samsung® Galaxy S4 as early as April 22, the accessories are up for pre-order on amzer.com and other leading resellers.
About Amzer:
Amzer was founded in 2003 by a visionary who realized handheld devices were vital for communication between people, and features of the many products available failed to meet their needs. Amzer's team created the first line of accessories to include advanced functions users were demanding and combine them with contemporary styles. With rapidly changing trends in the technology market, Amzer follows that same basic principle, and is constantly introducing new products to the world stage. Over the years, Amzer has rapidly grown as a leader in handheld device cases and accessories throughout the world and continues to design innovative products aimed to enhance the life and features of all handheld devices in the marketplace.