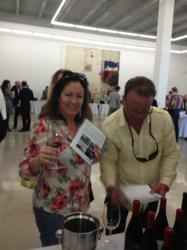 This is a very tasty part of the job
Vero Beach,FL (PRWEB) March 18, 2013
The old adage you don't know what you are missing until you try it is something Kitty Wagner, owner of Blue Star Wine Bar, takes very seriously. That is why this past March when given the opportunity to attend an exclusive Stacole Wine Show featuring world renowned wine importer Eric Solomon wines Kitty simply could not turn down the chance. The show, held at the Rubel art gallery off 29th Street in Miami, had over thirty-eight tables each featuring upwards of six different wines. The tables spanning over two rooms, backdrop with vivid artwork from the Rubel family private collection, started tasters from light to more full bodied wines.
Showcasing delicious varietals from both France and Spain this extravagant wine event had some real winners that stood out above the rest and will be showcased at Blue Star Wine Bar in the next few weeks to come including: a Grenache based rose, an Albarino with an exceptional glow in the dark label, a Gamay that offers a unique mouth feel when served with a slight chill, and some dark and deep reds that will inspire all those who try them.
To find out more about these wines and to see pictures of the show visit Blue Star's Facebook page or call 772-231-3338 to inquire about the new selections.