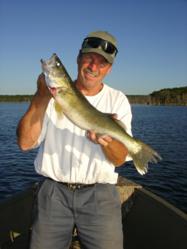 "Early spring on Devils Lake is some of the best fishing of the season
Devils Lake, North Dakota (PRWEB) March 16, 2013
Devils Lake fishing season is open year-round and fish populations are at their highest levels in 10 years. Out-of-state anglers will experience some great April and early May walleye and pike action, when these seasons are closed in their home states. Fishing now could be from shore, from a boat or from the ice. "Starting about mid-April, I'd guess about April 20 this year, the current areas under bridges will be open. We have a good snow-pack and will see incoming water soon," said long-time North Dakota guide Jason Feldner.
Feldner (percheyes.com) concentrates on the current areas that first open up near bridges and culverts. The walleyes and pike will be moving upstream, just like they do in rivers, and depending on the amount of open water, he will cast from the shoreline, or wrangle a small boat down the bank and into the lake. The third option is to jump on the 2-feet of ice and drill holes near the open water. He said, "You don't have to be exactly in the current; fish stack up in the vicinity. More show up all the time."
Devils Lake guides have experienced one of the best ice seasons ever, and it's still going strong. "The perch are back, and the perch bite will continue as long as we can get out there," Feldner said. "Big walleyes, including several over 10 pounds were iced and released this winter, along with lots of good-eating fish," he said. "And, the pike are shallow already. A client was recently thrilled with his personal best -- 41 inches." The ice should completely disappear by the first week of May.
Pro angler and guide Johnnie Candle, a Devils Lake resident said, "Shore fishing is exceptional here, and that brings droves of people - often times its better from shore than in a boat." Ramsey County sheriff Steve Nelson asked, "Where else can you step out of your car and catch fish?" The sheriff noted that anglers from Wisconsin, Minnesota and throughout North Dakota (himself included) fish from dozens of roadside shoreline areas.
Feldner begins his open water "current" fishing at Six Mile Bay bridge and goes upstream towards Dry and Mike's Lake. Or, he starts at Mauvais Coulee and heads north to Lake Alice, fishing each bridge area. One of his sleeper spots is the Sheyenne River below Devils Lake, since water has been flowing out of the lake during the past year.
Nearly 25 percent of the state's non-resident 3-day and 10-day fishing licenses are sold in Devils Lake. Fishermen heading to the area each spring select from 540 motel rooms, 18 resorts with cabins, 300 overnight camping sites, 900 seasonal camping sites and three marinas (Ackerman Acres, Woodland Resort, Spirit Lake Casino) with a fourth marina, Eastbay Campground being built.
Ramp Status: This open water season, North Dakota Game and Fish Northeast District Fisheries Supervisor Randy Hiltner said, "All ramps will all be open. Anglers will be able to launch and motor from nine conveniently located public ramps." Concrete ramps with adequate parking are strategically located, and a complete map is featured on devilslakend.com.
Road & Bridge Status: Rising water has created havoc and headlines as Devils Lake increased in size from 40,000 acres in 1992 to approximately 180,000 acres today. No matter where they launch, boaters will be able to drive under bridges to reach all corners of the lake this season. Most roadwork is now complete.
Early Season Tips: Jason Mitchell, guide and TV host (fishdevilslake.net) said, "At ice-out, everything seems to be biting. Whether from shore or boat, walleye, pike and white bass are on the shorelines. I cast and slowly swim Mimic Minnows and paddle-tails on jigs." Pro angler and guide Candle (johnnie@gondtc.com) likes spring run-off and fishing the current areas, but said, "Fish any shallow bay that warms fast. Pike and walleyes hold together. I prefer shallow-running lures like Husky Jerks and Rattling Rogues with lots of pauses or Berkley Ripple Shads."
Local angler Al Freidig sets his sights on Pelican Lake (northwest section of Devils Lake), Six Mile Bay and Mauvais Coulee north of Highway 19 as soon as he can motor across the lake. He casts shallow, targeting trees, rocks and old farm implements, running Shad Raps slow and steady. "On any cast it could be a pike, a white bass or a walleye," he said. If walleyes follow or he misses a bite, he flips out a bobber. "Early spring on Devils Lake is some of the best fishing of the season," he said.
Fish-Cleaning Station Open: Devils Lake has one of the highest-tech fish-cleaning stations in North America. It's located just south of Ed's Bait Shop on Hwy 20 (south of the city of Devils Lake), and free to the public. The 20 x 32 building can handle 15 anglers at one time. It has two grinders, a separate clean-up sink, regular and handicapped bathrooms, is heated (A/C for summer), has plenty of parking for trucks and trailers and is well-lit.
Event Update: The 37th annual Devils Lake Chamber of Commerce walleye tournament will run Friday and Saturday, June 21 – 22. Contestants will be able to pass under bridges this year. "This means they can fish wherever their boats will take them," said tournament director Johnnie Candle. The winners earn $5,000, but there are also prizes for other species and incentives for early-bird entries (by March 31). You can find the application online at http://www.devilslakend.com.
Devils Lake ice and open-water fishing guides target perch, walleyes, white bass and pike. They welcome every first-time angler and the thousands of anglers who return year after year. For Devils Lake guides, ice conditions, early season fishing reports or the summer "bite," lodging activities, restaurants, the Chamber walleye tournament and resorts, check http://www.devilslakend.com, or call 701-662-4903.