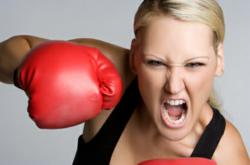 Hostility is one of the main attributes responsible for the negative health consequences of Type A personality.
Montreal, Canada (PRWEB) March 18, 2013
Hostility isn't just an emotional issue – it has an impact on both physical and mental health. Queendom.com, a pioneer in online personality, IQ, and career tests, has released its latest research on the impact of hostility on health. Their study reveals that those who smoke, drink excessively, and have high blood pressure are more likely to experience a higher level of hostile emotions as well.
Are people who are hostile more likely to smoke and drink, or is it the other way around? Perhaps it is two sides of the same coin. From a pool of 6,000 people who took the Hostility Test, researchers at Queendom.com looked at different samples of individuals with unhealthy lifestyle habits.
Their statistics reveal that:

Those with blood pressure problems scored high on Cynicism (50 vs. 44 for those without high BP, on a scale from 0 to 100), Anger (51 vs. 44) and Verbal Aggression (54 vs. 50).
Those who smoke scored high on Cynicism (53 vs. 44 for non-smokers vs. 50 for quitters), and Verbal aggression (58 vs. 52 for non-smokers vs. 54 for quitters).
Those who consume more than 5 alcoholic drinks a week scored high on Anger (51 vs. 46 for those who drink less), Verbal aggression (58 vs. 50), and Passive aggression (50 vs. 44).
"We can look at this data in two ways: either these bad habits compel people to lash out at others, as alcohol, for example, has been known to do, or their inability to regulate hostile emotions pushes them to seek out comfort in drinking and smoking," explains Dr. Ilona Jerabek, president of PsychTests. "Either way, hostility is inextricably intertwined with these unhealthy lifestyle practices. When we looked at people who have high blood pressure and who both drink and smoke, the score differences were major. Their top five hostile traits were Direct physical aggression (score of 70), Verbal aggression (70), Anger (69), Cynicism (66), and tied for fifth Resentment (63) and Passive Aggression (63)."
"Hostility is often used interchangeably with anger, but the former is more than an emotion, it's an attitude," continues Dr. Jerabek. "According to our research, people with hostile attitudes, aside from practicing unhealthy lifestyle habits, also have a negative outlook on life and get in trouble more often for aggressive behavior. In addition, hostility is one of the main attributes responsible for the negative health consequences of Type A personality."
While Queendom.com recommends seeking the help of a therapist to deal with high levels of hostility – in addition to breaking unhealthy lifestyle habits – they offer some tips to reducing moderate levels of hostile emotions:
Relax. Seems rather obvious, but a lot of people are unable to relax without the help of things like alcohol and nicotine. Real relaxation is physiologically incompatible with emotions like anger which is often a facet of hostility. Here are some ways to calm down when you are feeling angry:
o Breathe deeply from your diaphragm. Count at least 5 seconds in and 5 seconds out.
o Repeat calming words. Have comforting phrases ready for situations when anger strikes - for example, replace "I hate him," with "I am very angry with him, but I can deal with this."
o Visualize a calming place or thing. A beach, the flicker of a candle flame, or a calm sea.
o Practice stretching, yoga, tai chi, or any wholesome physical activity that calms you. Engaging in this activity on a regular basis will allow you to become more "in tune" with yourself, while doing it when upset will calm both your body and mind.
o Go outside and get some fresh air. Nature has amazing healing qualities.
Turn off the television. The media often put an incredibly negative spin on world events. While you can't completely ignore current issues, keep in mind that too much television can skew your outlook.
Avoid self-fulfilling prophecies. Expect the worst from people and that's probably what you'll get. Belief is a powerful thing, and skeptical expectations can result in an inability to recognize good when it happens.
Look at the positive side of other people's behavior. Train yourself to be more optimistic about others. For example, the next time you spot a homeless person, a rowdy teenager, or someone else who irks you, try to put yourself in his or her shoes. What must it be like to be that person? What could have happened in their life to make them believe they behave this way? If you objectively and empathetically broaden your mind, you may find that you are truly able to understand others. This is a wonderful capacity that will help you accept and appreciate both the people around you and all of humanity.
Change the way you think. This is referred to as "cognitive restructuring." Our habitual thoughts and reactions are reprogrammable, if we're willing to put in the effort to change them:
o Avoid negative words when feeling upset ("Never," "Can't," "Hate" etc).
o Try to keep hostility-inducing issues in perspective. Use the "5-5-5" rule: Ask yourself if the issue will still matter to you in 5 weeks, 5 months, or 5 years.
o Try to find the positive in a negative situation. There is almost always a silver lining. For example, you can say: "I learned a lesson from this experience."
Think about the consequences of putting hostile emotions into action. The manner in which you respond to a hostile situation, whether it involves breaking something or saying things you can't take back, can leave you feeling quite regretful. Remember Newton's law: "For every action there is an equal and opposite reaction." Hostile behaviors, direct or not, will have their consequences.
Queendom's Hostility Test can be found at http://www.queendom.com/tests/take_test.php?idRegTest=1124
About Queendom.com
Queendom.com is a subsidiary of PsychTests AIM Inc. Queendom.com is a site that creates an interactive venue for self-exploration with a healthy dose of fun. The site offers a full range of professional-quality, scientifically-validated psychological assessments that empower people to grow and reach their real potential through insightful feedback and detailed, custom-tailored analysis.
About PsychTests AIM Inc:
PsychTests AIM Inc. originally appeared on the internet scene in 1996. Since its inception, it has become a pre-eminent provider of psychological assessment products and services to human resource personnel, therapists, academics, researchers and a host of other professionals around the world. PsychTests AIM Inc. staff is comprised of a dedicated team of psychologists, test developers, researchers, statisticians, writers, and artificial intelligence experts. The company's research division, Plumeus Inc., is supported in part by the Research and Development Tax Credit awarded by Industry Canada.
Contact:
Ilona Jerabek, Ph.D., president
PsychTests AIM Inc.
http://testyourself.psychtests.com/
1-888-855-6975
ilona(at)psychtests(dot)com