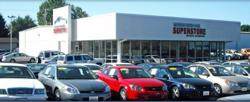 Marion, IA (PRWEB) March 17, 2013
DealerRater gives out the prestigious Dealer of the Year Awards annually to auto dealers spanning the United States and Canada that have the highest PowerScore™ in their category. The PowerScore™ is determined by an algorithm that considers a dealer's average star rating on DealerRater.com, the total number of reviews written about the dealership during the year, and more.
The awards honor dealerships that provide their customers with the kind of superior service that results in positive online feedback and reviews.
"We are incredibly proud to have won DealerRater's award for Iowa Used Car Dealer of the Year this year," said Jimmie Ottilie, manager of the Marion Used Car Superstore. "We attribute our success to our 60 years of experience in the automotive business, as well as our commitment to customer satisfaction every day."
Customers who are interested in finding quality service and an expansive selection of used vehicles can stop by the Marion Used Car Superstore today!
ABOUT MARION USED CAR SUPERSTORE:
Marion Used Car Superstore is your source for used vehicles of all makes and models in the Marion, Cedar Rapids and Iowa City, Iowa, communities. Our friendly staff of knowledgeable professionals makes buying a used car, truck, SUV or van easier than ever! Stop by our Marion, Iowa used car dealership today for an incredible selection, great service, financing and more, or learn more about us at http://www.marionusedcar.com.
ABOUT CBT NEWS:
CBT News/Car Biz Today, is an online news source dedicated to providing the retail automotive industry with news, training and event coverage through various forms of multi-media journalism. The online news source has more than 25,000 subscribers made up of new car dealers and their personnel. CBT News is home to award winning broadcasters and is headquartered in Atlanta, Ga.