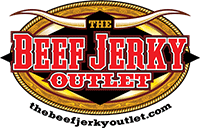 This uncomplicated approach makes a Beef Jerky Outlet store easy to operate for the owner and a pleasure to shop for the customer
Seymour, Tennessee (PRWEB) March 20, 2013
The Beef Jerky Outlet Franchise is featured in the Franchise Link section of Entrepreneur magazine's March 2013 edition. The article, titled "Jerky Boys: A Fresh Take on an Age-Old Snack", features interviews with The Beef Jerky Outlet founding partners Scott Parker and Paul Lyons.
The article in Entrepreneur focuses on the evolution of jerky from a commonplace meat snack to a culinary delight. Scott Parker adds that the current growth in the jerky market is partly related to the desire for low-carb snack foods and healthier snack alternatives. "Ninety-nine percent of the jerky we carry has no MSG and no sodium nitrate," says Parker.
Beef Jerky Outlet stores feature the world's largest selection of beef, turkey and wild game jerky available under one roof. "We have over 200 varieties of jerky, including alligator, kangaroo, pheasant, duck, chicken, salmon, elk and venison," says vice president Paul Lyons. "If it can be turned into jerky, we have it." He also says the Beef Jerky Outlet gives consumers variety and premium quality, as well as the option of buying in bulk at a significant savings.
With 14 stores around the country, The Beef Jerky Outlet operates franchises in Texas, Michigan, North Carolina, Louisiana, Virginia, and Tennessee. The company plans to add at least 10 more outlets this year at selected locations. Parker and Lyons say customers who walk into a Beef Jerky Outlet store for the first time are often surprised by the wide selection of flavors. "We have one jerky that is moonshine flavor and it's got a smoky corn-whiskey taste," says Parker. In addition to selling small batch jerky, The Beef Jerky Outlet also sells hot sauces, jams, pickles, summer sausage, smoked cheeses and flavored popcorn.
The authentic atmosphere of the Beef Jerky Outlet stores reflects the franchise's marketing philosophy of "keeping it simple," making it one of the best retail franchises for jerky aficionados. The bulk jerky is set out in covered rustic barrels for sale by the pound, while jerky in packs line the shelves. This uncomplicated approach makes a Beef Jerky Outlet store easy to operate for the owner and a pleasure to shop for the customer.
About The Beef Jerky Outlet:
The Beef Jerky Outlet is a Tennessee-based company focusing on elevating jerky of all kinds to culinary status. It offers a large selection of jerky in various flavors made from beef, turkey and wild game. The Beef Jerky Outlet stores present an excellent retail franchise opportunity for investors seeking a business with high margin returns on moderate start-up costs. To find out more, visit our website at http://www.thebeefjerkyoutlet.com