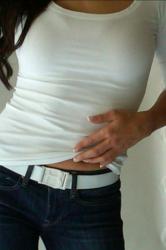 Sometimes, the best fashion accessory is the one you don't actually see
Long Island, NY (PRWEB) March 18, 2013
The process of going through airport security can be time consuming, not to mention a common annoyance. Experts from the leading flat adjustable belt company, Beltaway Belt, offer tips on going through a quick and speedy security check for spring break travelers.
"Going through airport security can be a daunting task, not to mention highly stressful," says Beltaway president Jaclyn Kaufer. "When traveling, the word light should always be in the forefront of your mind."
Here, Kaufer offers four tips to a successful and stress-free travel day:

Never duplicate if possible. Today's flying experience has the added element of planning our outfits so we get through airport security as painlessly as possible. It's no fun having to repack at the airport!
Versatility is key. Avoid packing multiple pairs of shoes and belts for each outfit as those can take up so much room. Beltaway offers a bulk-free flat elastic belt that travels light and goes with multiple outfits, so you only have to travel with one.
Make sure to have important traveling documents such as an ID and travel itinerary.
Avoid wearing bulky belts that will be required to be taken off. Beltaway Belt offers a solution to a traveling annoyance with its men and women's flat elastic belt.
Frequent flyers can avoid any time consuming security checks by following these simple tips. "Sometimes, the best fashion accessory is the one you don't actually see," says Kaufer.
For media inquiries and more information, contact Mark Kaufer at mark(at)beltaway(dot)com.
About the company:
Beltaway Belt is a leading fashion necessity for men and women. Created by fashion veteran and entrepreneur Jaclyn Kaufer, Beltaway is a flexible, comfortable, adjustable, flat elastic belt that moves with the individual and gives them the security of keeping everything in place, all while eliminating any bulky belt buckles. Beltaway is available in a range of neutral colors, easy to pack and travel with and ships worldwide. To see what Beltaway Belt can do for you, visit http://www.beltaway.com.