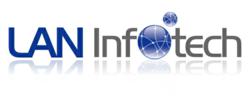 "We couldn't be more honored to be selected by MSPmentor as one of the top IT service providers globally. We hope to accelerate our customers' success by serving as technology advisors for their business demands
Fort Lauderdale, FL (PRWEB) March 19, 2013
LAN Infotech, a leading managed service provider of IT solutions in Ft. Lauderdale, has landed on Nine Lives Media's sixth-annual MSPmentor 501 Global Edition (http://www.mspmentor.net/top501), a distinguished list and report identifying the world's top 501 managed service providers (MSPs). This year's report has been expanded extensively to include:

New: MSPmentor 501 Global Edition
New: MSPmentor 100 Small Business Edition (top MSPs with 10 or fewer employees)
MSPmentor 200 North America Edition
MSPmentor 50 EMEA (Europe, Middle East, Africa) Edition
MSPmentor 25 AANZ (Asia, Australia, New Zealand) Edition
New: In-depth data tracking mobile device management (MDM), managed cloud services and other recurring revenue opportunities for MSPs.
"We couldn't be more honored to be selected by MSPmentor as one of the top IT service providers globally," said Michael Goldstein, President and CEO. "We hope to accelerate our customers' success by serving as technology advisors for their business demands. Every member of our team works tirelessly to deliver world-class service to our clients and it's rewarding to see our group of professionals recognized for such efforts."
The MSPmentor 501 report is based on data from MSPmentor's global online survey conducted October-December 2012. The MSPmentor 501 report recognizes top managed service providers based on a range of metrics, including annual managed services revenue growth, revenue per employee, managed services offered and customer devices managed.
"MSPmentor congratulates LAN Infotech on this honor," said Amy Katz, president of Nine Lives Media, a division of Penton Media. "Qualifying for our MSPmentor 501 Global Edition puts LAN Infotech in rare company."
MSPs on this year's global 501 list lifted their combined annual recurring revenues 24.5 percent to $2.54 billion. Together, those MSPs now manage more than 5.6 million PCs and servers, and nearly 400,000 smartphones and tablets, according to Joe Panettieri, editorial director, Nine Lives Media.
MSPmentor, produced by Nine Lives Media, is the ultimate guide to managed services. MSPmentor features the industry's top-ranked blog, research, Channel Expert Hour Webcasts and FastChat videos. It is the number one online media destination for managed service providers in the world.
About LAN InfoTech:
LAN Infotech is a professional information technology consulting and engineering firm. They have been delivering high-value IT solutions for over 20 years. Professional, timely service and excellence in design and delivery of highly reliable networking solutions have distinguished LAN Infotech as a leader in our craft. Their mature and experienced teams of engineers deploy solutions that range from simple Internet connectivity to business continuity, cloud solutions, online managed back up, email archiving, complex support systems, managed services and network level security. March 2010, LAN Infotech was one of the winners in Business Leader Media's Top 50 Entrepreneur Awards and recently been named to Microsoft's Cloud Champion Club.
For more information about LAN Infotech please visit the website http://www.laninfotech.com, or call (954)717-1990, or email sales(at)laninfotech(dot)com.
About Nine Lives Media
Nine Lives Media, a division of Penton Media (http://www.penton.com), defines emerging IT media markets and disrupts established IT media markets. The company's IT channel-centric online communities include MSPmentor (http://www.MSPmentor.net), The VAR Guy (http://www.TheVARguy.com) and Talkin' Cloud (http://www.TalkinCloud.com).
Contact:
Nine Lives Media, a division of Penton Media
Joe Panettieri, Editorial Director
212-204-4206 or joe.panettieri(at)penton(dot)com