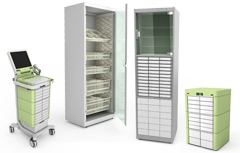 Inventory Management, barocoding, eMAR, bedside delivery, secured storage and mobile storage of medications and supplies for Hospitals and other Healthcare providers responsible for SAFE, SMART and SIMPLE medication dispensing
Nashville, TN (PRWEB) March 16, 2013
3AM Technologies, LLC, a healthcare IT services company, has incorporated the use of iNTERFACEWARE's Iguana healthcare integration engine as a feature allowing the ServeRx Pharmacy Management System to interface with other healthcare software including ADT, billing, orders and inventory.
"3AM Technologies is thrilled to add a platform to the ServeRx product that will ease integration of the pharmacy management system with software resources from other vendors. We believe this will add even more value to a great product," said Kevin Bracey, chief executive officer of 3AM Technologies.
Since the acquisition of MDG Medical, including all of its assets and intellectual property in January 2012, 3AM Technologies has been focusing on the development of the ServeRx Pharmacy Management System. The IGUANA integration engine is just one improvement that allows 3AM Technologies to improve reliability and enhance performance of its complete medication management system.
The company has plans to continue its focus on developments for the ServeRx product while also providing additional IT support services to its pharmacy and critical care hospital customers.
For more information on 3AM Technologies and services visit http://www.3amtechnologies.com or call 1-800-3AM-7656.
# # #
News Media Contacts:
Kevin Bracey
CEO
+1-800-3AM-7656 or kevinb(at)3amtechnologies(dot)com
About 3AM Technologies, LLC
3AM Technologies was founded in 2010 with the mission of providing IT support services with pride, honesty and vigilance. These values carry over into every area of business, including the recent acquisition of MDG Medical and the ServeRx™ System. 3AM's history of customer support and extensive experience with the ServeRx™ System provides a foundation for continued product development and technical support in the medication management industry. More information is available at http://www.3amtechnologies.com.
™/® denote trademarks of 3AM Technologies.