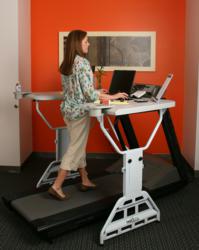 (PRWEB) March 18, 2013
In a new study published this month in the journal Psychological Medicine, a group of researchers from London's King's College found that participating in life long exercise can significantly improve an individual's cognitive capabilities at the age of fifty. Fitting adequate amounts of physical activity into a sedentary work day is a challenge for most employment aged individuals however. TrekDesk Treadmill Desk may offer a unique solution to this dilemma.
This study is one of the first to identify the long term benefits of staying active related to later life cognitive capacities. Dr. Alex Dregan of King's College stressed the importance of the new study's findings and the need for long term lifestyle changes that combat sedentary lifestyles.
As exercise represents a key component of lifestyle interventions to prevent cognitive decline, cardiovascular disease, diabets and cancer, public health interventions to promote lifelong exercise have the potential to reduce the personal and social burden associated with these conditions in late adult years."
The 9,000 study participants were analyzed as to the amount of exercise they engaged in from the ages of 11 to 50. Date collection was performed beginning at the age of 11 and continued intermittently up to the age of 50. Participants were measure via cognitive tasks designed to assess memory and executive functioning. The study found those participants that exercised at least once per week during the study period performed markedly better than those that did not.
Dr. Dregan elaborate further on the study: 'It appears that intensive exercise may offer benefits for brain functioning in later life over and above those resulting from regular yet less intense exercise. Clinical trials are required to further explore the benefits of exercise for cognitive well-being among older adults, whilst examining the effects of exercise with varying levels of frequency and intensity."
"This study echoes a number of other studies that show the cognitive benefits of remaining active during the day through out one's lifetime," stated Steve Bordley, CEO of TrekDesk Treadmill Desk. TrekDesk has mounted a movement campaign designed to educate Americans as to the extreme health risks of sedentary lifestyles. While many Americans know their blood pressure and cholesterol levels, very few know the amount of steps they take in any given day. Studies at the University of Tennessee revealed that Americans average less than half of the minimum 10,000 steps recommended by the Surgeon General just to maintain health. "We have a plague of inactivity that is drastically affecting the health of our nation and developed nations worldwide," added Bordley, "we have to intervene now to change this dynamic."
Designed to fit any existing treadmill, TrekDesk treadmill desk is an affordable, full sized, height adjustable workstation that allows individuals the opportunity to gain the necessary amount of exercise daily to maintain health, reduce stress, prevent disease, strengthen muscles, boost mood and productivity, without requiring additional time during the day or extra motivation. Wondering how to workout at work? TrekDesk treadmill desk offers the solution.
Join the TrekDesk "Movement Revolution" to learn more, spread the gospel regarding movement, or win a free TrekDesk http://www.facebook.com/trekdesk, or follow TrekDesk on twitter http://www.twitter.com/trekdesk. TrekDesk treadmill desk is currently available for sale online at http://www.trekdesk.com.
Read the study results here: http://journals.cambridge.org/action/displayJournal?jid=PSM