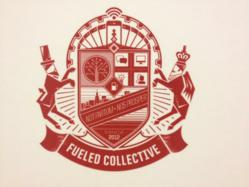 New York, NY (PRWEB) March 18, 2013
Fueled Collective (http://fueled.com/coworking-space-nyc/), a shared coworking space housing mostly technology startups, located at 568 Broadway (also known as The Prince Building) in Manhattan's posh SoHo district has announced that they have signed a lease with their landlord, the popular social media startup Foursquare to expand their offices.
Following the depature of two neighbors on the floor, Indaba Music, a social network for musicians and 20×200, an ecommerce site for art collectors, the Fueled Collective negotiated a new lease to absorb the now empty offices. The deal was done directly and without brokers. The Fueled Collective had previously occupied approximately 12,000 square feet of space, and is expanding to 18,000 square feet.
The floor plan is also changing from three separate open spaces into one large open space divided by partial walls. The layout will remain a bullpen style space where the different companies within the Fueled Collective can mingle and interact with one another, a benefit touted by members of the Collective as an important factor. The space also will house seven individually designed meeting rooms with glass doors and flat screen televisions. In true tech startup style, the space will sport a ping pong table, foosball table, arcade games and even an antique piano.
The Fueled Collective is a shared coworking space that houses startups and rents by the desk. Its founder, Rameet Chawla, is himself a founder of a successful startup; the mobile app design agency Fueled (his firm is also the largest member of the Collective). "The expansion is something we wanted to do for a while now," says Chawla, "we toyed with the idea of other spaces, but when these offices opened up we jumped at it. We love being at 568 and the Foursquare team are great landlords."
The Collective currently houses 20 startups in 100 desks. The new space is expected to house as many as 30 companies in 150 desks.