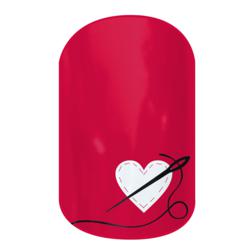 Our Fashion Delivers nail wrap unites fashion and philanthropy in a non-traditional way that we love.
LINDON, UT (PRWEB) March 18, 2013
Jamberry Nails, the direct-selling nail art company that's become a household name over the past year, has teamed up with charitable foundation Fashion Delivers for a signature nail art design to benefit people living in poverty and victims of natural disasters.
For every Fashion Delivers sheet sold ($15.00 retail), $2.00 will go directly to Fashion Delivers to support nationwide initiatives for those in need. Jamberry is also participating in what is sure to be a monumental Fashion Delivers event for Hurricane Sandy relief in Toms River, NJ. Jamberry has donated 1,000 sheets and their time, to help women in need apply nail art – "the ultimate morale booster" according to Jamberry co-founder Christy Hepworth.
Jamberry founders, Keri Evans, Christy Hepworth, and Lyndsey Ekstrom (all sisters), have always made charity a priority. "Our business model itself is all about spreading goodwill and empowering women," adds Hepworth, "our Fashion Delivers nail wrap unites fashion and philanthropy in a non-traditional way that we love."
ABOUT FASHION DELIVERS:
Fashion Delivers Charitable Foundation, Inc. battles the effects of poverty and natural disasters by supporting hundreds of local social service agencies and homeless shelters across the globe with donations of new clothing, shoes, personal care products and other home essentials. Fashion Delivers has distributed over $150 million worth of product since its founding in 2005, and its primary purpose is to lend a caring hand to families in extreme moments of crisis and trauma. Fashion Delivers brings hope and "heart" to those in need. For more information please visit fashiondelivers.org.
ABOUT JAMBERRY NAILS:
Keri, Christy and Lyndsey are three best friends who also happen to be sisters. They launched Jamberry Nails in 2010 for women just like themselves who want perfectly manicured nails while running from the gym to school drop offs to work and back again. But their product had to be easy to use, long-lasting, and most importantly, FUN. Today Jamberry Nails is a leader in both nail art and nail technology, with nail wraps that come in over 275 patterns and are applied at home with an innovative heat and pressure technique. Jamberry Nails are chemical-free, odor-free and fuss-free. Jamberry Nails supports a network of over 6,000 independent consultants nationwide who host and plan Jamberry Nails parties for women of all ages. For more information please visit jamberrynails.com.